WHEN is the Right Time – A Discussion on Workplace Harassment in the Alcohol Industry
March 25 @ 7:00 pm

-

8:30 pm

CDT

Free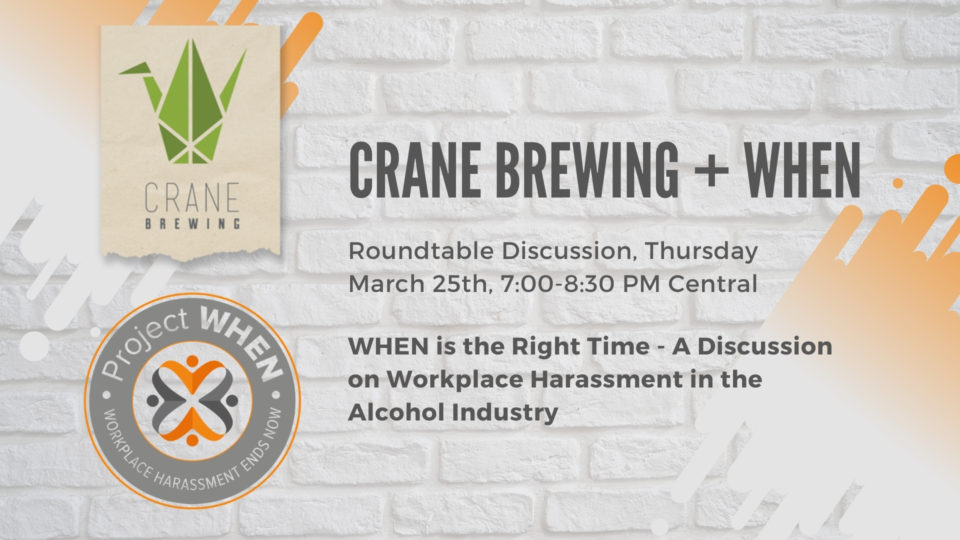 Crane Brewing Company has partnered with Project WHEN to help spread the important message of eliminating workplace harassment by facilitating a roundtable discussion. Passionate individuals from the alcohol industry will talk about their views and observations about workplace harassment as a systemic issue and the challenges that come with it. Through this engaging forum, participants will gain a genuine and deeper understanding of their role in the fight against harassment at work.
Employees of breweries, bars, restaurants, bottlers, distributors, along with anyone who is passionate about this topic, are welcome to attend this webinar.  We will be capturing viewer questions via chat to add to our discussion throughout the event.
About Crane Brewing & the Project WHEN Beer
Crane Brewing Co. is an American brewery based in Raytown, Missouri. Founded in 2014, the brewery has been serving wild and rustic beers in their local metro while creating new and exciting ales by collaborating with other brewers who share the same passion.
Today, Crane is taking a bold and important step by demonstrating their commitment to elevate awareness against workplace harassment. In addition to facilitating a meaningful discussion, Crane is launching their latest CraneCares beer project, The Time is Always Right, their first "Cold IPA." This style uses pilsner malt and lager yeast producing a beer that is crisp and lighter, but still full of hop aroma and flavor.
A portion of sales from this beer will be dedicated to Project WHEN to help us in our mission of creating more respectful places of employment.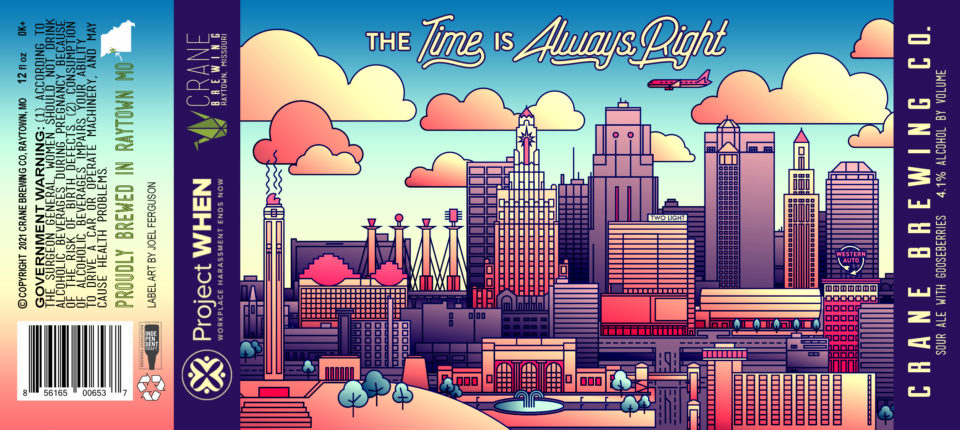 Panelists
Presenters
Matthew Stegmeier – Director of Operations at Project WHEN
Diane Stegmeier – Founder of Project WHEN
FAQs
1. How do I register for the event?
You can use the embedded form below, or if on a mobile device, load that page directly here: https://us04web.zoom.us/meeting/register/upYvd-uspz8qHNaDzGuSUZ4IneDAjfapaqz7
2. What software/tools do I need to be able to participate?
Registrants will be provided a Zoom link that will allow you to view the event.
3. Can I invite a colleague or anyone in my network to attend?
Yes. Inviting anyone who wants to take part in this important discussion is highly encouraged. You can send this event page to them as an invitation.
4. Do I need to pay to be able to attend?
No. This event is free for all. Attendees do not need to pay for registration or any event-related fees.  If you found value from this event, please consider supporting the companies who comprise our discussion panel.  Project WHEN is a 501(c)(3) charitable non-profit, which relies on the generosity of corporations and concerned citizen.  To support our mission financially, visit our donation page.