WHEN is the Right Time – A Discussion on Workplace Harassment in the Alcohol Industry
March 25 @ 7:00 pm

-

8:30 pm

CDT

Free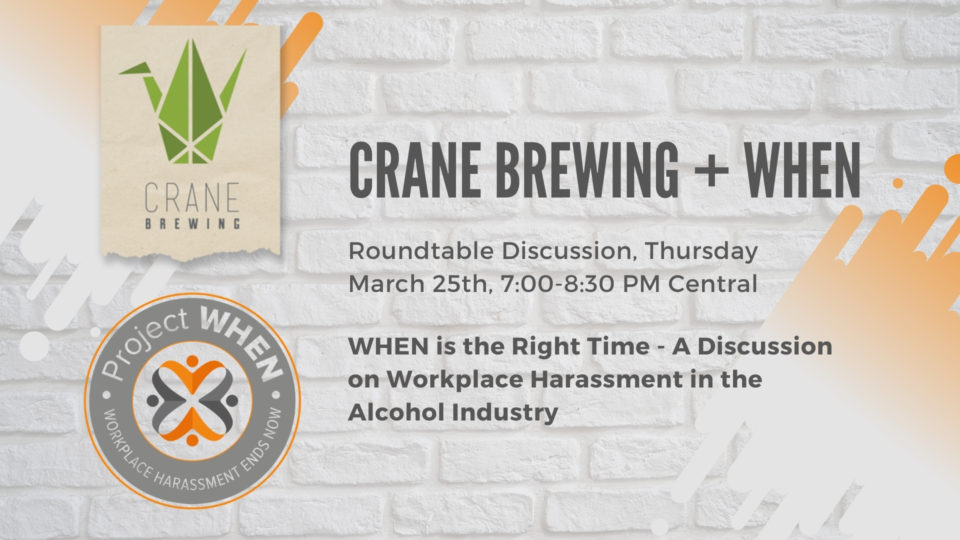 Crane Brewing & Project WHEN Host Webinar on Workplace Harassment in the Alcohol Industry
Crane Brewing Company, in partnership with Project WHEN, facilitated a roundtable discussion on workplace harassment on March 25, 2021, Thursday. Passionate individuals from community breweries in Kansas City were invited to join the panel for the event (full list provided below) and talk about their ideas and observations on workplace harassment challenges facing the alcohol and service industry today.
According to Chris Myers, Co-Founder & Co-Owner of Crane Brewing, their initiative to conduct a community discussion stemmed from the passion to make a difference and help other businesses address systemic harassment that is prevalent in their industry. The brewery's research effort led them to Project WHEN, a non-profit organization working hard to create more respectful workplaces. This became a great opportunity to engage their community and spread the important message of eliminating workplace harassment.
The discussion brought a few important topics to the surface. The panelists shared their observations on the unique challenges being faced in their industry such as the risk factor of alcohol consumption, public perception of the alcohol business, harassment and microaggression issues caused by customers and employees, and workplace cultures that allow unacceptable behavior to be swept under the rug.
As the discussion got more intimate, the panelists revealed their honest thoughts on ways people can take action against workplace harassment. These involve improving organizational cultures, active involvement by leadership, showing genuine support and respect to coworkers,  and supporting victims of harassment.
Workplaces in different industries face numerous challenges and harassment in the alcohol and service industry is just one manifestation of this systemic problem. Project WHEN welcomes opportunities to co-organize webinars and roundtable discussions to break the ice and create a safe forum for organizations to talk about what needs to change in their places of employment.
Continue reading this page to learn more about Crane Brewing Co. and the meaningful work they are doing to help us further our mission. A recording and transcript of the webinar are also available below.
Want to know how you can get involved with us and stay updated on the latest Project WHEN news? Sign our Pledge of Commitment to officially join the movement and automatically subscribe to our email updates.
About Crane Brewing & the Project WHEN Beer
Crane Brewing Co. is an American brewery based in Raytown, Missouri. Founded in 2014, the brewery has been serving wild and rustic beers in their local metro while creating new and exciting ales by collaborating with other brewers who share the same passion.
Today, Crane is taking a bold and important step by demonstrating their commitment to elevate awareness against workplace harassment. In addition to facilitating a meaningful discussion, Crane is launching their latest CraneCares beer project, The Time is Always Right, their first "Cold IPA." This style uses pilsner malt and lager yeast producing a beer that is crisp and lighter, but still full of hop aroma and flavor.
A portion of sales from this beer will be dedicated to Project WHEN to help us in our mission of creating more respectful places of employment.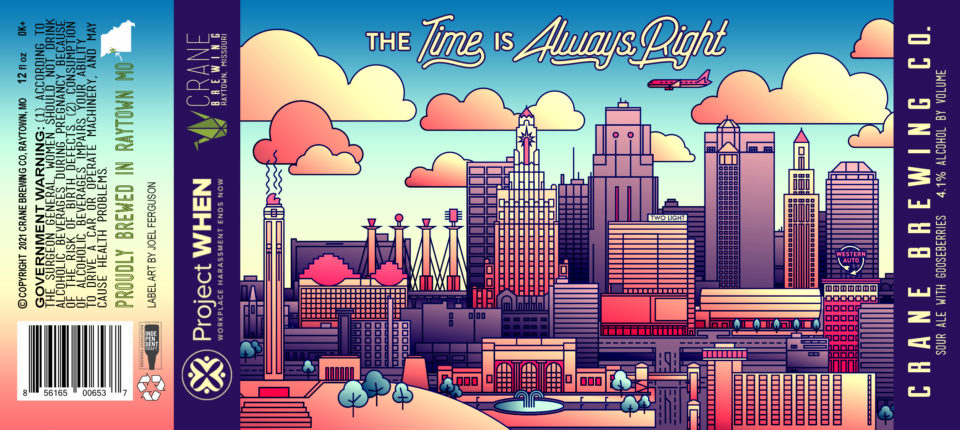 Panelists
Presenters
Matthew Stegmeier – Director of Operations at Project WHEN
Diane Stegmeier – Founder of Project WHEN
Crane + Project WHEN Webinar Transcript
Chris: Everyone that's here, we really appreciate you joining us for this um… something unique and special. I'm Chris Myers, one of the founders of Crane Brewing and we're a community brewery. We're about five years old in Raytown Missouri and um… we try, and you know when we've got the opportunity to kind of reach out and do something positive in the community um… we do that under part of our organization called Crane Cares. 
And this was an interesting one because several, what seemed to be back to back instances of major harassment in the alcohol and service industry in our area um… and it's nothing new it's just stuff that you know really got kind of pushed to the front especially um… in the brewing world, too. 
And so besides being a small business and just not wanting to be a part of that, and you know and trying to do better, we wanted to see how can we actually make a positive thing out of all this outside of our brewery, how can we help other small businesses, other people in the community, employees. 
And so we started researching and we discovered Project WHEN, is a great organization whose whole focus is ending workplace harassment and as part of that we have this opportunity to invite them to discuss what they do, you know, talk a little bit about the issues and really get to hear from a great panel coming up as well, so people that I know, people that as these issues arose, had things to say and I know had had really good things to share and to discuss more about it publicly. 
I won't be sitting in on that panel but um I just appreciate everyone being here. My hope is that from this, whether you're an employee, a manager, a business owner,  that you can find something to take away and maybe that'll help us all work things out a little bit better. Thank you.
Matthew: Well thanks, Chris. We really appreciate you putting on this event in tandem with Project WHEN. My name is Matthew Stegmeier. I'm the Director of Operations for Project WHEN and I'm joined here with Project WHEN's founder, Diane Stegmeier. 
Diane: Hello everybody! 
Matthew: So Diane is going to take us through a little educational exercise. So everyone hopefully learns something today about what harassment is and what it's not in the workplace. 
Before we get into that, I want to tell you a little bit about Project WHEN's mission, our background, who we help and what some of the things we're working on right now. 
Okay. So Project WHEN is a 501(c)(3) charitable nonprofit and our mission is really to help companies change their cultures and creating more respectful and inclusive workplaces for employees everywhere and also part of our goal is to help victims of all forms of workplace harassment. 
So, as a charitable nonprofit there are a lot of things that we do towards those ends. But you know, the mission of our group and the WHEN is an acronym if you see the W.H.E.N. stands for Workplace Harassment Ends Now and our mission is really to raise awareness and to get people thinking about what we need to change in our corporate cultures and our workplaces, how we treat other people at work, what we can do if we see something happen that doesn't sit right with us.
So we want to raise awareness for this and empower people to be able to stand up for themselves and for others and hopefully to evolve some of our workplaces and how we act and treat people. 
So, with that said, some of the things that we do is put on events like this that are educational in nature to educate the public on what harassment is, what you can do if you've been harassed. So we call these Project WHEN Roundtable. So it's an event that… it can be held internally for a company if you're a business owner or if you're someone internal to an organization, you know there's, there are things that are going on that we need to address or if you just want to improve your corporate culture and make your workplace a place that's more welcoming and inclusive to everyone. 
A Project WHEN Roundtable is a great event where we can kind of kick start that dialogue and talk through what are some of the challenges, what are our blind spots as an organization, what are things we need to do better, what are things that are going well. And this is also the type of event that someone could put on for their business community such as Crane's doing here to kind of raise awareness for what's going on, and it's something we're really excited to be putting on for you today. 
So another thing that we do is… we have… we are in the process of developing two separate certification programs so there's a individual certificate program for people who are really passionate about making workplaces more inclusive for everyone and this is, almost like a, I would call it a micro-credential.
Diane: A micro-credential. 
Matthew: Where you'll be… this is being developed right now by our team and will be put on by the HRCI – Human Resources Certificate Institute. They do a lot of HR webinars and training events. But this is a five five part course to teach people about all the different types of harassment, what to do when it happens, how to address it, and how we can, you know, be better… better citizens and better colleagues for the people we work with. And it's an accreditation that people will be able to say that they know about workplace harassment and they're educated on it and they're empowered to do something about it.
We're also in the process of launching our organizational certification program which is a, is an avenue for a company to really declare that they care about this topic, they're passionate about it, they want to do what's right, they're gonna do everything they can to try to create a welcoming inclusive safe workplace where you can bring your true self to work every day.
So that is a process where we will… it's a three-step process where we conduct a survey for the organization where they'll survey electronically all their employees asking about what's their experience with related to harassment at work at this company, what's going well, what are some things you're seeing, what are challenges you're having. 
Our team will then review those findings, take a look at some of their policies and procedures and books and all of… all the things that guide an organization internally, their reporting structure and take a look at all that and come back to them with some recommendations of what we think their organization needs to do to be more at the level that we feel companies should be at in terms of their culture and how they handle these occurrences. 
So that is approximately a three-month process that companies will go through and it's a way for them to really differentiate themselves as companies who truly care about their employees and, you know, want to show to the world that this is an important topic and one we take seriously. 
Beyond that some of the things Project WHEN is currently doing and is working on importantly is being a resource for people, so being a resource for companies who are either going through some type of issue at work where there is harassment and they're dealing with it, they're trying to figure out what's the way forward. Being a resource for companies that don't have anything going on but they really care about this and they want to take them… take the next step to really drive change and become a more inclusive and welcoming corporate culture.
And be a resource for victims of harassment. So… we… we're not… we're not trainers, we're not employment law attorneys. There's a lot of things we know about but we recognize that we're not the specialists in all of these areas and one of the things we want to do is be able to connect people who are affected with and dealing with these challenges with resources that can help them with this. It's a scary situation to be in for anyone and we want to provide connections to people who need help 
Beyond that, we've worked really hard over the last year or two to develop some resources and guides on our website. So we have… if you go to our resource section on projectwhen.org, you'll see that we have a comprehensive guide about how to report incidents of workplace harassment. So if you if you see something at work, if you yourself are being discriminated against or a victim of harassment or you maybe, you think you are and you know the law is at times a little bit confusing, so you might think you are but really it might not be, this guide will takes you through very comprehensively all the steps involved in what you can do and how you can get guidance and help and what your recourse is as a victim of harassment, as an employee under the law from a corporate standpoint, what can you do to change your corporate culture, what can you do if something comes up. 
We've also developed some guides about all the different types of harassment. So I think one of the things you hear about most often in the news is sexual harassment and that tends to be the the most salacious thing that comes out and people are well aware of it and even uh, you know, specific to the alcohol and service industry, we know there's a lot of things happening.
For instance, even in your town there are things that have gone on at establishments. But in the industry, you know, back in the fall, there was a big deal with the sommeliers, the people who are trying to become certified as the individuals who know a lot about wine and what pairs with what and all the different nuances and how things are put together, and you know really taking their career to that next level. 
You have to go through a very rigorous training and certification to be accredited to do that and there's been some well-documented impropriety where the people who approve you or kind of green light you to be accredited and historically have been guys that have been taking advantage of women sexually, you know in kind of a quid pro quo relationship of you know you can… you can get… you can move ahead in your career and you can get this accreditation but you know I want something from you. 
So there's lots of things specific to this industry even, that we hope to talk through with our panel discussion tonight. But really having resources for victims of harassment is near and dear to our heart and something we've worked on developing for our website. There's so… there's… again, there's a long winded comment there. 
But sexual harassment is not the only type of harassment that's prevalent within the workplace, so there's ageism there's, you know, bullying, there… lots of other different types of or forms of harassment that are tracked by the federal government. So we have examples of each of those different types of harassment so you can educate yourself on what that entails. 
So we're very excited to be with you here tonight and with that, I would like to turn things over to Diane Stegmeier, Project WHEN's founder to talk through some different types of examples of workplace harassment.
Diane: Thank you, Matthew. First of all, before we dive into a sort of a fun exercise we're going to do here, I want to share with you what Project WHEN, uh how we define harassment. Because as Matthew mentioned, that harassment goes beyond just sexual harassment and quite frankly this is why I founded Project WHEN back in 2018 when the me too movement was in everybody's face and I really felt like organizations were going after solving this issue, this social issue the wrong way. They were focusing purely on sexual harassment and they were focusing exclusively on women as the victims and my thought from 20 some years of research of behavioral change is that we really need to to address systemic harassment and the only way you can do that is with the holistic approach.
So we ask employees our employers to expand their viewpoint of what harassment is and we look at that as unwanted conduct to include all areas of workplace harassment so of course it would include sexual and physical harassment but also coercion, quid pro quo harassment, microaggressions, bullying, ageism, job shaming, verbal threats, derogatory comments, discriminatory or exclusionary behavior, and other forms of offensive behaviors.
Now that's a mouthful and that's a lot to keep in mind but the true meaning here is we want the workplace to be respectful and a positive experience for every single person there regardless if you're female, regardless if you are in a certain culture or certain race. We want it to be respectful for every single person and the only way we believe you can do that is by adopting these principles of a culture of respect.
But what we would like to do is take you through an exercise where we're going to look at what is harassment, what harassment is not and we're going to ask you through the chat feature when I read this off you can see true or false if you think that this is harassment.
So let's start with this and let's make this a interactive exercise here. 
So the first comment that you might hear in the workplace, "You did a really nice job explaining our beer of the month program to that customer… for a woman." 
Is that true or false? Is that harassment? I'll give you a moment to go on the chat and give your answer, true or false. We want to keep this going here rather quickly so if you can give me your first reaction.
Okay let's look at that. So the comment, "You did a really nice job explaining our beer of the month program to that customer… for a woman." A comment such as this is a microaggression and is considered harassment and you can think of a microaggression often as a sarcastic compliment or a compliment that in the end it makes you feel bad. So you know the person is paying an individual a compliment "Hey you did a nice job… oh yeah… but you're a woman." So, true, that is harassment.
Let's move it to the next question for you to go into the chat and answer, true or false. 
Is this harassment? "The menu board is full of errors. I could have handed a piece of chalk to my kid and had less hassle fixing your stupid mistakes."
Is that true or false? Is it harassment? Again, we're going to keep this moving here, don't want anybody to fall asleep on our webinar.
The answer… true. "The menu board is full of errors.I could have handed a piece of chalk to my kid and had less hassle fixing your stupid mistakes." This comment is categorized as bullying and is considered harassment. And we hear a lot about bullying with school age kids and there's a lot of resources out there to help young kids make it through life without the bullying and we see our work as an extension of that to help people understand that bullying is not okay and some of these things may not be illegal. You're not going to get sued for them but they're wrong.
Next question. Is this harassment? "OK Grandpa, get the lead out. I'd like to get this inventory counted before I'm a senior citizen."
Is that harassment? True or false? And hopefully we don't hear, have you say, we're hearing these in our workplace, because that would be unfortunate.
Okay! This one also is true! A comment such as this is categorized as ageism and is considered harassment. It's not okay to point out someone's age and make it into a joke or a negative comment. I've been in an organization myself where I heard a mid-level manager say to younger employees, it's like, "I've got ties older than you are. You don't know much about our industry." It's like, you don't point things out like that. It's just not necessary and there's no benefit to anyone.
Another one for you to consider, is this harassment? "I swear I'll put my fist through this wall if I need to explain this to you one more time."
True or false? What do you think about that one?
You might see a trend here. This one's true. Comments such as this are verbal threats and are considered harassment. Again, that could be a lawsuit in there but it's just out wrong to talk like that to anyone in the workplace, whether it's your peer or your subordinate. I mean, we just shouldn't be talking and treating people like that.
Is this harassment? This is the last one for you to uh tease your brain on. Leering at a part of your body, off color jokes, posters & graffiti, or verbal remarks of a sexual nature.
Is this harassment? True or false? Last chance for you to weigh in on your thoughts. 
We hope you get all of this all… this last one right for sure. These unwanted behaviors are considered sexual harassment even though they do not involve physically touching. So, it doesn't have to be sexual assault to be sexual harassment. We want you to know that. But it's all in how the end user perceives it, not in what the harasser intends because they… we hear harassers often say "I was only kidding, that was a joke." Well it doesn't matter. It's how I perceive that as an individual. 
Matthew: It's about the impact that the comment has on a person, too. 
Diane: Yes.
Matthew: And so it's not just if the intent of a comment was well, there's a light-hearted joke. If someone takes it the wrong way and they're hurt by it then that technically falls within the description of what harassment is.
Diane: Yes.
Matthew: So something to keep in mind and I'm sure there might be some questions that have come out of the chat from that as we go through today's Project WHEN Roundtable. Feel free to type in questions in the chat and we do have a panel discussion coming up shortly and if you have any questions, we'll try to work those in and if there are things that we are not able to address on this event, our team will attempt to reach out to you with an answer after today. 
So thanks for taking us through that. Hopefully, that was educational and everyone learned a little something. I'm excited to get to the panel discussion.
Diane: Yes. 
Matthew: Before we get to do that, I shared a little bit about some of the things that we do in our day-to-day operations at Project WHEN and our mission and what we believe in, what we're trying to accomplish. I want to take a moment to tell you a little bit about some of the things that we are hoping to achieve as an organization and as a 501(c)(3) charitable non-profit, we rely on donations in order to accomplish all the stuff we're doing so… either from corporations, from individuals, from people who are doing a sponsorship event such as Crane here which we'll tell you a little bit about the beer momentarily with Chris. We rely on that funding and we are so appreciative of the people who donate to us and I would just take a moment to tell you a little bit about where we're hoping future funding will help us make an impact.
So, I mentioned some of the resources for victims of harassment. We're working to continue and building out our website with stuff that is really tangible and can help people move forward. I think one of the biggest things that is important to me that I think people are… really have an opportunity to make an impact is when you are a bystander and you see something happen. You've been tasked with a mighty task. It's an uncomfortable situation… it's… but you… and you may not be comfortable speaking up in the moment. But knowing how to handle and navigate those situations and even provide support to the people who are going through it as a victim, that is something I hope we can build out more content about because that's something we've had a lot of people ask about how to do that. So continuing to focus on developing and building out resources for people who are faced with harassment at work and people who can help.
Another thing we're hoping to launch here is our WHENcast we're calling it a Project WHEN podcast where I will be hosting events and talking to people who are practitioners out in the field who are driving change and who are experts and you know, are seeing things and trends and can talk through what some of the challenges are today, what are some of the solutions. 
Shining the spotlight on people who are actually driving change and doing great things. You hear so much about the bad things in the news that are going on today in society and in workplaces but there are a lot of good people who have a big heart and really believe strongly that we need to make our workplaces more inviting and inclusive for everyone. And I would love to be able to put the spotlight on them and give them a platform to share some of their successes and some of the tactics and things they've learned and been able to do to help make their workplaces more welcoming.
And then lastly, something that I think is very very important is support for the victims who are going through harassment, not just guides and you know, web pages talking about what you can do but what happens when you're going through workplace harassment. I think it's a scary situation for people. A lot of times they don't know where to turn and I think sometimes they just… individuals just need someone to talk through to kind of be a sounding board to bounce some ideas off of, you know, "What will happen if I do this versus you know, this stuff?" You know, "Do I just put up with this?" "Is this actually harassment?" "How do I handle this?" 
So one of the things we would like to launch this year is a victim support hotline and that would allow us to staff a call where we could schedule calls with people to talk through their issues and really address some of the concerns people have and give them hope that yes, there is a way forward. 
So that's something I'm really hopeful that we can launch here in the future at Project WHEN and donations will enable us to do that. So beyond supporting us, we would love that. I would also ask you if you find any value in this event, to also support Crane Brewing, as well as the organizations where our panel members work. Give them your business. Tell them you appreciate them being involved in this and making a difference and being a part of the solution.
So with that said, I want to turn things over to Chris to talk a little bit about the beer that they brewed to support Project WHEN and to help us out financially.
Chris: Alright. Okay. This is the label and if you can see I've got the cans it's not so much about the beer tonight but obviously as a small brewery, this is the way we're able to raise funds is by getting the community involved, you know, giving them something to enjoy which is hopefully great beer but then also that allows us to give back to things like this. 
So the beer we're doing, it's called "The Time is Always Right." It's based off of Martin Luther King quote saying "The time is always right to do the right thing." And partnering with Project WHEN and this whole discussion of being kind of when is the right time to bring these things up. The beer, we wanted something super approachable. The style is called a Cold IPA. It's something that is a newer style, you know. It's a very hyper specific style. It's pilsner malt and rice, slightly higher ABV but super dry, clean, and crisp. The hop additions though throughout the process just give something that's really big and bold for some… anyone who likes IPAs.
And so we're excited to get that out and have it part of it. We had a local artist, Joel Ferguson designed the label and because we know this is, you know, a nationwide issue but for us we'd like to kind of start in Kansas City and try and make change here. He created this beautiful art scape of our city. So, hope you'll come out and enjoy it, you know, share with your friends and…
Matthew: Chris, your audio cut out there for the last few seconds so if you want to repeat what you're saying after "come out and enjoy it with your friends" and I think you we're going to introduce the panelists, too. 
Chris: So reaching out again, these are people that I've known for quite a while, people who are in specifically mostly the brewing industry but also in the alcohol industry and people who support breweries like ours who as these instances were coming up locally. Again, I was kind of following and trying to listen to what they were sharing and the idea of bringing people into this discussion who might have more experience or more things to share.
We've got Cathy Morrison who I've known for many years. She's owner of… founder of Common Purpose and her whole position is kind of going into organizations and blowing these things up and finding the gorilla in the room and really finding a way for people to talk about the things that not everyone is really ready to talk about.
Penny Clevenger who is a team member at Crane Brewing. Love her and super you know respect her and appreciate just how fortunate we are to have her as part of our team and kind of growing with us.
Elizabeth Belden is a Brewer at Kansas City Bier Company. Um… early early person getting to meet her when I was first learning about what it takes to open a brewery and then all the different aspects. 
Dez Jones, also a Brewer at Torn Label Brewing Company.
Katie Camlin is the Beer Manager at Local Plaza Liquor.
Bri Burrows is the Head Brewer and Co-owner of Big Rip Brewing Company in North Kansas City.
And then, Damon Arredondo is a great guy, another brewer in the industry, but he typically has shared a lot of instances lately trying to make a difference and he's become a Committee Member for the Master Brewers Association of Americas for their Diversity, Equity and Inclusion Committee.
So, happy to have all of them aboard!
Cathy: Alright! So are you ready for me to take over, Chris? Yes. Okay, so we're just gonna jump right in and start talking about the industry challenges in the industry and how the members of our panel are seeing things happening in their areas of business and how they handle those.
So we thought it would be great to start with a discussion about in your industry, you have some unique challenges when it comes to creating a safe environment and ensuring that there is not harassment in the industry or addressing it. So I thought we would start with a question just about… talking about the unique challenges that you all face. And you can just chime in.
Katie: I'll just jump in. It doesn't seem like anybody else… *laughs* Hi! So I've worked in retail and at like breweries and bars and one big challenge that I've observed kind of throughout my career is, you know, having access to alcohol and kind of having access to situations where maybe you're drinking and you're in your workplace and you're maybe not on the clock but you're still in your workplace around your co-workers and kind of just navigating like, you know, uh I guess socially and like, I don't know what kind of words, I don't know what exactly I'm trying to say. 
But like um, you know, things can get more sketchy when there's alcohol involved and so we have… a lot of us have access to this like… in our workplace and it can create some more difficult situations. 
Cathy: Yeah, I think that's a great point that everyone can relate to and really when… it can cause people to have less control of their filter and what is appropriate to say or not say. So what else would you all like to add about that? Do you all agree with Katie? I see um with Katie, I see a lot of nodding.
Dez: I would like to agree with Katie, especially on the alcohol abuse, you know, uh even within your co-workers and as well as customers, you know. And it's definitely been a challenge for me in 25 years of the service industry, whether I was working in food or behind a bar. But it is a massive challenge. I totally agree with her on that.
Cathy: So do you guys feel like the issues are more with the people working in the industry or more issues with customers or a blend? 
Damon: Um, I would say it's a blend. It starts with the culture that the brewery sets or establishment sets and then it emboldens customers to act a certain way and you normalize it in the space or accept it and then it just kind of piles on itself. 
But really, it starts with the culture of the space and then that gives permission to those who think certain things are okay or not.
Cathy: It's a great observation. 
Penny: Yeah, I completely agree with that. I think it starts basically at home in whatever establishment you work at and what you let slide with your employees and what you let slide with people who you consider your regulars. I think a lot of the times, regulars get to slide on certain things and that really needs to stop. You know, people think "Oh well he spends x amount of dollars here so we can let him just say that one little funny thing. It's gonna be okay. We're… it'll be alright, yeah." So things like that need to be nipped in the bud.
Cathy: Anyone else? 
Damon: I… and I like to challenge the status quo a lot. One thing I'm doing in my committees is, I'm just like, asking big questions just about culture in general. But really it even stems from not even the location or like the individual place but the culture as a whole, what is perceived. 
Craft beer, for example, I have an issue with the outward projection sometimes of our culture. Our industry do we… or this lucky… like have fun party industry and stuff like that and that gives the perception that "Oh, it's cool. This other brewery is a part of the industry. They must be that, too." And so you get some of those people that assume you act a certain way and you are a certain way and you see the brewer, they're having a good time so it must be that, you know, type of atmosphere or whatever. But it's broader, it's more broad than even that location. 
And then don't even get me started on, like, American society and stuff. But with that said that's a lot of the work that I'm doing, a lot of mental wellness that ties into that as well.
Katie: I do feel like…
Cathy: Go ahead.
Katie: I do feel like there is, some, like, I agree with you, Damon, on there being like a… almost like a general opinion of craft beer of being like, cool and like, laid back and like, you guys just drink all the time and like. I think even as an employee in past situations, I have felt, like, this pressure to, you know like, be cool and be like, part of the laid-back culture, you know, because of like, kind of just like the image that I feel like craft beer has, kind of in society in general. So that's definitely a good point. 
Elizabeth: Katie, I 100% agree with that. I think there's a huge perception, one of like, one of the things that I've struggled with was… so I've worked in the brewing industry in Kansas City for 15 years now and a lot of, you know, when things started to like not feel okay or not be good like internally in the company, I would try and explain that to friends or family and they're just like, "Oh, but it's such a cool place. It's fine. It's probably fine." 
So like, the cool factor of the place where we're working with the industry we work in almost makes it so that it's a little gas lighty and it doesn't feel like maybe we're just taking this a little bit too seriously, maybe it's not that big of a deal, when really it's a big problem but just there's the perception of the industry like, well "Why would, you know, that the ads are so cool, looks like such a great place to work." And it's like, "Oh well, maybe it is. Maybe it's me." So I think, yeah, the perception's a huge huge problem, I think, still.
Dez: It's toxic.
Elizabeth: Yep. 
Katie: I may have had many, like, "Am I… I'm probably just overreacting." Like, don't… don't be that person.
Elizabeth: By well-meaning people, too, where it's just like "Ah!" This is just trying to explain something to friends that I'm really having… it's like… "Oh this guy's gonna be in creepy." It's like… "Ah!" But it's fine, it's fine.
Bri: Yeah, I feel like a lot of… a lot of people uh really see us come out of our shells a bit at beer fest and that's usually, you know, when the public sees the brewers and the owners the most is that beer fest and that's usually our, like, one time to like, have a good time especially you know at Crane's fest when it's a fest for the brewers uh if… they really give us a chance to come out of our shell and have fun and then when the public sees that, they're like, "Oh, that's what they do all the time." When really it's a couple times a year and that's it. 
Cathy: I'm curious, what you feel like you can do to address the culture within your span of influence and span of control? What are things that you have maybe tried to do successfully or tried to do? I mean, obviously you've given an example of something you've tried, you've raised the issue and have been told, "Oh you're overreacting," but what are some things that maybe you've tried to do that you feel like have influenced the culture in a positive way?
Elizabeth: I tried to explain microaggression.
Cathy: You tried to explain microaggression… [laughs]
Elizabeth: Because like… I mean just to, because like… I mean, you know, elephants in the room… just… you know, with everything that happened at Boulevard, it was… so much of it was so… just… like that is the worst thing that could happen is like someone actually gets physically assaulted and then everything beyond that, you know, that's not quite to that level is like "Oh well, it's not that bad anywhere else." Like, you know, "This person would never assault anyone." Yeah but, there's little things that are still going on that are… that just kind of suck like…
Cathy: Yeah.
Elizabeth: I mean having, you know like, I've found personally just over the last, you know, decade plus a lot of times people who not necessarily might direct co-workers but people in distribution like, that's kind of an old boys club that will see me working in the back in the brewery and just kind of make these like, "Oh, well look at you working so hard," comments and you know, I'm just trying to explain to my boss like, yeah a lot you know years and years and years of like having myself kind of felt like putting down… put down like that, it…
Cathy: Right.
Elizabeth: It just weighs on you like that… it's not one thing. It's a lot of things but it's of… years of a lot of things.
Cathy: Yeah. Did you feel like you made any headway in your explanation of microaggression?
Elizabeth: I think so. I don't think he'd ever considered that before…
Cathy: Yeah.
Elizabeth: …at all. I mean like, it was sort of like a, "Oh sh*t. Okay, that makes sense, okay, good."
Cathy: And sometimes people need to hear things repeatedly, right? Either you get through or you plant a seed and the more people are doing that, then the more people see that the culture is changing, is different than what they thought it was. What other examples do you all have of times you have spoken up and addressed or made… feel like you've made headway in changing culture either in your organization from the top down or you personally just saying "I'm going to take a stand."?
Damon: Well, I'll also just step in and say, you know, it's very dependent on the size of organization and stuff, too. When you have something that's so structured and already in place like Boulevard, where you're kind of like, you know, a small one person in an organization of a thousand or something then. And there have been stories of things coming up in the industry and a few stories written and stuff like that where man, they are… it's one person and it's clear they're having… something is happening but they're up against this wall, whereas, it… when you're in a small place you have the ear immediately of the owner or something and you hope that they listen, but also part of the issue could be the culture that's set by those owners. 
But I will just say from my space… the brewery I was at recently… left. But I would say you know, you really just hope one, is you have the trust and the individuals have the capacity to hear this. 
That is one of the things and this is why I do a lot of mental well-being work and talk about emotional languages is we… what we can really control is our reaction and our emotion in how we report, when we report and the response… our responses to them. And I know this comes from somebody that's kind of in a big male bubble so I like, I live in a different kind of world sometimes, but what I know to be true though is that we are responsible for our own emotions and our own reactions and finding a way and hoping that they have that ability to hear and also telling them I'm not responsible for your reaction. So if they do get defensive if they do get these things, there may be a sign there. But you know, for me as I… I… multiple times may not have fully felt that there was the capacity to hear some of the things that were brought up which then I have to find another route for them to hear. 
Dez: I will pile onto that because I feel like, you know, in my experience in 25 years of doing this, you know, the biggest challenges for me is communicating those to people who are on upper management, you know, the people who are signing your checks, people who hired you, and just maybe even like a supervisor that controls your schedule, you know, uh without getting too emotional, just like damon said, you know. No one's gonna respond to me or anybody very well if obviously, they're hurting your feelings or upsetting you and you go to them and you react to them the same… with the same energy that they're giving you, you know.
I find for me, being a larger black woman who constantly gets mistaken for being angry before I've even spoke. For me, the best thing to do is just like, to approach an individual alone, you know. I don't want to embarrass people because I do want to solve it, you know. Just kind of hold up an emotional mirror, like, to the person, you know like, I'm being vulnerable with you. I'm being… I'm being very transparent and authentic with you. What can we do to solve this?
Those challenges for me in the workplace have always been a little bit challenging because I'm usually one of a kind, you know, I'm usually the gay person on staff or the black person on staff and yeah, being misconstrued is I think, it's one of the biggest challenges in your workspace and trying to actually advocate solving an issue.
Cathy: Dez, do you mind if I ask how do you… how do you bring the issue up? So I… you get someone one-on-one, and then how do you begin that conversation?
Dez: Yeah again, I like to get someone alone because I want to be treated the way I'd want to be treated uh and I want to treat someone that way as well. If someone had an issue with me, I would hope that they wouldn't embarrass me in front of other people or try to belittle me in front of other people. I think the best way for anyone to settle arguments is, you know, to pull someone aside if it's possible, you know. 
Sometimes you can't pin people down. Sometimes people won't make time for you. I've done that with the manager before in the past or be like, "Hey, you know, when you get a second, can I talk to you?" and they'll be like "No, no I'm busy." And they never make time for you, you know, just little power games like that because they know it's coming. They know that you are about to assert your humanity and your adultness and why the… "Dude, we work here together. We clock in together. I'm gonna see you, like there's no reason why we have to have any sort of misunderstanding." 
I approach everything from the point of, well this is a misunderstanding. Certainly this person isn't coming for me, you know.
Cathy: Yeah.
Dez: Because that can be really dangerous as well to approach a situation, already upset and, you know, you could easily fly off the handle and then you know, you look like a jerk. So… just I think being authentic like I said and just trying to be in the moment with that person and uh I don't know that I want to expose too much of myself but I think vulnerability does help, you know. I want them to see me as a human being and I want… ultimately I want it solved. I'm tired of dealing with whatever we're going through, you know.
Cathy: Okay, thank you.
Dez: Yeah.
Cathy: Does anyone have an example of how they have raised an issue with someone who's a regular, who's a customer that is being inappropriate?
Dez: I just run it up the chain of command. I'm not ever in charge. I find a manager and I let them know what's going on and I let them deal with it.
Cathy: Okay, do you know how they handle it? Have you watched them do it before?
Dez: I think everyone in this room that has any sort of serving experience has watched all sorts of management. From people who are actually going to go out there and take care of it versus the people who are scared and you know, they see them confronting a customer or a regular as "oh dollars walking out the door", you know, versus… 
Cathy: Right.
Dez: "I'm weighing the money we could be making off of the comfortability of one of my employees that comes in here," and you know dedicates their time to making my brand better. But I mean we… I think we've all seen it all, you know. I've had management and even just co-workers, like, really go above and beyond for me, and then I've had, you know, the complete opposite.
Cathy: Thank you. How about the rest of you? Other examples or insights?
Penny: I'm pretty guilty about calling a spade a spade, so when you come at me with it, I'm coming back. I'll call you when you do it. Luckily, I work with great people who will also have my back at that point and be like, "sorry we don't do that here" like, I… yeah… I don't know. I guess sometimes, I can come across aggressively because I've put up with so much that there's certain things that I just don't anymore and it gets hard to set boundaries, and then when you set boundaries for yourself, have those people respect you for the fact that you just said, "Nope. This is my boundary. You crossed it and I'm letting you know that you crossed it." Yeah.
Cathy: Do you feel like it's easier for men to speak up and set those boundaries than for women?
Katie: Oh, absolutely.
Penny: Absolutely. 
Katie: I feel like you immediately get, like, you just get labeled as like a shrew or a b*tch if you're, you know, firm like that as a woman, but you know.
Cathy: Do you all feel like progress is being made? Do you see anything improving, say from five years ago to now or further back than that to now?
Elizabeth: Oh yeah. I mean, so when I started… so I mean I… so I worked at Boulevard for 10 years before I started at Bier Co. and I was 23… 24 years old and honestly, like, a lot that's happened in the past couple months has made me really take a look at some of my experiences with just the perspective of some time and some wisdom and some age. And I think that just the fact that we're having a discussion right now is a huge step but there was… I mean, I admit there's stuff that I'm still kind of working through, trying to figure out like, "oh that was not okay, like this entire time period was not okay." And then just… it's just been kind of a lot to process. 
So I definitely think we're in a better spot now than we were because I don't think, I mean, I was the only woman on the operations side of things for eight years… seven years something like that. And so it was just a really… it was weird to try and figure out exactly where I fit into, like, being one of the guys versus, like, I was not fitting in with, like, the office ladies and that was a very uncomfortable space to try and navigate. And I, looking back, I did not do a good job a lot of the time. So it's… I mean…
Cathy: Well, probably the other people around you didn't do a good job at the time 
Elizabeth: Oh, there's multiple multiple levels of failure. I was not the only one who messed up there. But yeah so I definitely think that, you know, it's improved for sure.
Dez: There's certainly more awareness and I would agree with you, like, I mean, I think the me too movement did a really thorough job and scaring people at least into acting right and it made a conversation happen whether people were agreeing with it or not. People now know there is a standard of conduct that you have to behave, like, when you are at your job or at a customer at someone else's job, yeah.
Cathy: Right. 
Damon: I, for a while, I was seeing a lot more microaggressions though like more recently because of the PC police or "whatever" where like, people come in they're like, oh, you know they're like, you know, they'll have these like, little yeah or they'll have these, like, moments where they're like, "Oh I gotta be careful now because of this or whatever" which is totally a load of crap. Like it is like, sexism like, disguised as like this tiny little comment that they're, like just behaving, like, behaving still is not fixing it, like…
Elizabeth: Or saying, like, saying the words like "oh hashtag me too" at you.
Damon: Yes and it's the sarcastic customers, and then the acceptance of that being funny that like, leads to all, like, and then it starts again piling on itself and piling on itself before you know it, somebody gets more brave and then says something actually really offensive, more offensive and direct. 
But like, I've seen a lot of that, like, as some of these movements and some of these things are happening where there's like, people might not even say anything but they're looking for opportunities to, like, poke at them and they'll do it to the people that these movements are benefiting. And to me, like, I used to sit at the end of our bar and just, like, sit and listen and like, it was painful sometimes. Some of the crap I would hear and I would say stuff, mostly because I was like, I don't want my bartenders to have to deal with this and I grew up with two sisters and I have a daughter and it's like really forced me to, like, start listening.
And so anyways, it's those microaggressions that I've really noticed that pisses me off even more than the "in-your-face" stuff because it's the people who think they're funny and try to get the people around them more to, like, bring more to it.
Cathy: Do you feel like when you speak up and try to address that, that people listen? Are they open?
Damon: So this is the big male bubble that I live in. Yes, but also I just don't deal with or I don't, like, accept smart ass necessarily, you know, it's… if it's friends and at a bar it's still, like, okay not that funny. Stop. Because I don't want anyone to feel uncomfortable around me who hears it and I'll say something but me, as a… I'm 6'2" uh, you know, fairly big, not heavy set but just larger than the average human, so that gives me some, like, I feel more brave probably because of it, um, but yeah.
Cathy: Okay. I want to remind everybody who's watching that you are welcome to jot a comment or a question that you have for the panel in the chat if you would like. Otherwise, we're going to continue on our own script here or the questions that we were thinking would interest you but you are welcome to chime in.
I'd like to talk a little bit more about the different kinds of harassment that you see in the industry. So, it sounds like, especially with the advent of me too, you see more of the um, you see more microaggression occurring. What other types of things that you see? You all have talked about sort of, it sounds like, and tell me if I'm interpreting it wrong, a little bit of almost like a little belittling of the contribution that you make as a woman when you're doing equally the same job as well or better. Is that microaggression?
Penny: Oh absolutely. Absolutely.
Katie: Definitely.
Penny: Anytime we challenge anything that a man does regardless of how it is, they do their best doing the little small things first to see how you react to that and if, like, I am considered a b*tch majority of the time because I just… I don't put up with it. I don't like your little microaggression. I don't like your little snippet things. I don't like you thinking that I don't know what I'm talking about because I'm a female like…
Cathy: Right.
Penny: I am not just in beard… just to, like, take up space like I enjoy it. I love it. It's a part of my life. I love being out there at the festivals. I love introducing people to new things and having you try something maybe you didn't like trying before. But you know, a lot of the times I get met with this "Well, you can't know what you're talking about so I'm going to talk to the guy bartender because he'll know what I'll drink, like…
Cathy: Right.
Penny: It's ridiculous.
Cathy: Yeah… yeah. 
Katie: One… I think… I guess this would be a microaggression. Something that I've run into in, like, every beer job I've had is being, like, quizzed by…
Elizabeth: Yes! Yes!
Katie:  Yes! Like, "Oh well where are most hops grown?" and then you'll say it and "I just wanted to see if you knew." And that never ever ever ever happens to a man, I swear. Or, you know, I've even had customers at my liquor store job that were like, "I bet I know more than you" and I'm like, "Congrats," like… I don't… like…
Penny: Okay.
Katie: Those are the things, like, that in the moment aren't, like, devastating obviously but it is so exhausting, like, I feel like…
Cathy: Right.
Katie: Women in beer, like, you have to prove yourself and then some, like, be taken seriously. I think you have to be like a badass or like you know, like, extra knowledgeable, just like, it gets exhausting. 
Dez: I love just letting people fall flat on their face with that and just being like, "Yeah man, I don't know I just… actually, even if I do know I'm like I'm not doing this with you, man." 
Penny: Right.
Dez: "Nope, we're not buds." 
Bri: Yeah, I've been lucky enough to work with some guys who, like, kind of play along and be a little microaggressive back to the customer so, like, before this, I used to bartend at a craft beer bar and I, you know, whenever working with other guys. It would be a, say a busy Friday night and some guys would come in and I'd be like, "Hey are you ready?" They're like "No." But they'd go directly to the male bartender and ask them for recommendations. And then that male bartender would just yell at me from across the bar and be like, "Hey Bri, what would you recommend for this?" And I, like, they just do it on purpose to let that customer know that, you know, I know what I'm talking about. You don't have to just go to the guy. Guy doesn't always know more.
Cathy: I like that because there are a lot of ways to get through to people, right? Direct is a great way to get through to people. Humor is a way to get through to people, the example that you just gave and it… I don't know. What are your thoughts that might… I have a thought that says the more we can have different ways that we're going at people to get them to change culture and think about things differently that that can be beneficial, but not that there's ever a reason we shouldn't just be able to just be direct about it. Are there…
Bri: Yeah, sometimes if you're direct in front of their friends or in front of other people, you're gonna embarrass them, and then they're just gonna continue thinking that they're right and you know, you embarrass them, so you should feel bad because you embarrass them, whereas if you take like kind of a humor… humorous approach, they'll… it'll make them think about it and think about what they're doing.
Cathy: Okay. So what do you guys think? Do you like when people sort of have your back in situations like that? Or okay…
Dez: Yeah.
Cathy: And what are other… what are examples of ways people have your back that you like? Because I think that can also be something we share with people of different ideas of ways to be supportive or different ways to handle situations. So what else have you had done or seen done that you think was a great way to handle something or to back you up?
Dez: I like it when my co-workers or management involved just gives me full autonomy, you know, like, "Okay, so you went to this table, this table or this customer is upset about this thing, well what did you tell them? Well that's what it is, so go back and tell them that I'm not gonna come out there to tell them that. That's exactly what it is and if they have a problem with it, you know, offer to pay for their beer and send them back." 
Yeah, I love autonomy. I love someone being like you have full autonomy to, you know, handle that situation the way you know it needs to be handled and not let someone try to, like, wrestle you into like getting someone else out there to, like, embarrass you in front of people or take it a step further… co-worker management come out there and literally say the same thing that I just said which is wonderful, you know, like, you're not going to get a different answer with a different human. That's the best thing in the world. 
Cathy: Thank you. What else?
Elizabeth: I know, so at festivals in the past, I mean, this was years and years ago but I've… like, and there were not as many women in the industry at the time and so I think it was just like assumed that, you know, if I was pouring beer, it's because I was like, sales girl or marketing girl. 
And you know, I was pouring beer. I was in the quality lab and I was pouring beer with the male sales guy and someone had, like a customer asked me a question. I answered it and then as soon as the guy came back, they asked the exact same thing and I was still standing right there. And like, my friend was just kind of like "I don't know, like, I just sell it… she checks it, like, ask her," and I'm just like… 
So just having co-workers that respect the experience that you have, I think, is huge, like not just trying to kind of take over and, like, "Oh well they asked me." It's like no, like, "She knows just as much if not more, refer to her."
Cathy: Right. 
Damon: Yeah and I'll tie that in into multiple things. It's… it's so for black lives matter and stuff I'll also say like, I am choosing to trust my black friends experience that that is what, like, these issues are coming up is their experience. It's the same thing for women in the industry. For me is like, I can't experience it, like, I am not a woman so I don't get these things coming to me but what I can do is trust it and then do my part and start shifting where I need to. I still screw up sometimes I still have moments, I, you know, and that's part of it. 
But like, I think that's what we need to do is also just trust and it comes into the autonomy and and other things is just like we need to believe the people who work with us and for us and, you know, act accordingly. And it's so hard for people, especially who are like the dominant class we'll say, to do that but that's the work and that's where the discussion culture and stuff really comes in.
Cathy: I think the other thing that that alludes to is that it's important to ask people what it is that can be helpful to them, their experience and how you can have their back because not everybody is the same, right? Someone may prefer just to be direct. Someone may prefer humor. Someone may… so for people to talk to you and say, "How can I be helpful to you?" Or for someone who is being harassed to speak up and say, "Here's what I need," I think can be very helpful.
Damon: That's… that's a big one is express your needs because most people don't know what they are unless you say them and it's usually after something happens when it's figured out. And I think about it, just in my relationship with my girlfriend is we are very open about what our needs are in the particular moment and stuff just like, "I need my space right now. I'll be back in the tenth." Or whatever it is but coming in early or ask if you're struggling with a manager or something like that is like in this moment, what is it? Like, where's the miss? And how can we… what are our needs? What are you asking for or looking for or vice versa? 
Cathy: We had a question that was asked that I am going to read to refer to you all and this says, "Identifying as a woman in this historically male dominated industry, how do you find yourself perceived by other women? Do you have similar suspicion about what you know or do you typically get support or respect?"
Penny: Well speaking for myself, I think we are pretty close and respectful, at least anybody that I've been around female-wise in the beer industry. I feel like we're pretty tight-knit for the most part. I haven't dealt with any kind of disrespect. I surely hope I have not given anybody else any kind of disrespect. But I think we rely on each other for our different knowledges because we all have different aspects of all of this that we are known for and that we are good at and so we… if we have any questions we can defer to each other for it and just… I don't know. I have… I have not dealt with any disrespect from women in this industry at all.
Cathy: Okay, what about women as customers?
Penny: That can be a little bit different. [Laughter] It just kind of depends on the attitude that you kind of see them bring into your establishment in the first place. You can kind of read them when they come in the door whether or not you're going to have and get an attitude from them. Sometimes I don't necessarily feel like it's completely directed at me. Sometimes they don't necessarily want to be in a craft beer place, their husbands, boyfriends, whatever dragged them there and they're just okay doing their little microaggressions because they didn't want to be there in the first place. Sometimes I get some who feel like, you know, I shouldn't be there or I'm too friendly and chatty or what have you, so that one's a little bit different but women who are actually physically in the beer industry, I have not had any issues with. 
Cathy: Okay, okay, thank you. How about anyone else?
Katie: Penny, I was just gonna say in my experience also I feel like there's like an enthusiastic support at least like in our Kansas City scene. Again, like just from my personal experience I don't feel, like, a pressure or like, a suspicion. I feel like there's very much like, a very like, energetic like, enthusiastic support with women that I've interacted with personally in the beer industry.
Dez: I would second that as well, for sure. Just within the home brew community starting off, before I was ever doing any sort of brewing or tap room bartending, Bri was the first person to really, you know, just come up to me and like give me the welcome mat in the sense that, you know, whatever you need, you got questions, you need help. I mean, I have called that woman at 11 p.m. at night and she's been at my house to help me figure out my kegerator the very next morning or show me how to force carb or I, yeah, my experience has been pretty rad. I mean, but I mean to be fair there's not many of us, so I think when we see each other we're like, "Oh!" You know like, "Wow, wee!" You know, I get excited about it. 
Same as well as like, you know, just being able to get along with people. I don't… I don't think that my experience with women is much different than men, you know, I think I've got really beautiful relationships with men as well as co-workers and just in the beer community as a whole. It has been incredibly supportive, you know, even when I think I was making trash beer in my basement, people were still like, "Yay! Good for you girl. Keep it up!" you know which is great, very encouraging. It was… it's been very encouraging. I'll give you that.
Cathy: Okay.
Matthew: So I'd like to chime in with a question here and it's based on something that's alluded to just now but also when you talked about staff members having your back in a situation with a customer and also tying into what Damon said to kick things off that it starts in-house, how your establishment sets a tone of how your team's gonna operate and how, you know, you, that guides how you deal with customers and how their… what level of things that they can get away with.
So my question for the panelists is, what are some things that employers have done well in your industry? What are some things that are working that you've seen either where you work at other places in town or in the industry?
Katie: Personally and this is a small thing but I came from… oh, are we there? Uh-oh.
Matthew: You're still on.
Katie: Sorry. Everybody froze on mine for a second, thank you. Oh so I came from a big brewery where, I, you know experienced some hurt like some sexual harassment some, just overall culture issues and the place I work now, it was so incredibly refreshing that my boss like pretty much like once a week for the first few months was like, "Are you… like how are things going? Are you still… are you still enjoying it? Is there anything you need from me?" And just having like… like just a check-in was such a big deal and it was never like in front of other people and it's never, you know, on the spot. It's kind of just like an aside, like, "How are things going? like, "How are you feeling about this?" Like just as like… I don't know. That was a huge deal for me, to have that happen in a workplace.
Cathy: Nice. Does anyone else have an example that they'd like to share about? Things they've seen done well? 
Dez: I like it. I like it. I'll clutch back base to it. I really like it when managers promote a culture that basically has promoted the mutual respect between coworkers, you know, like that is huge to me, huge. And I never knew that I was missing it until I had it and it was like, I can breathe and, you know, we've all had a job where you know, bef… you got home from it and then an hour later after being home, you're already dreading going back to it tomorrow. And it's the little things you know, and like having management that knows how to put not only guests at ease but you know their staff that's clocked in as well, you know. And making sure that we're all not necessarily, you know, happy. That's not their job, to make me happy. 
But like she said, Katie said. I like how she said you know checking in and being that model of inclusiveness, you know. I like managers who promote inclusiveness. Sometimes you're gonna have a lone wolf on your staff but it's always nice to let someone know that if you want to be a part of this, we want you to be a part of this. We want you here. We appreciate you. You're appreciated. And I feel like management that lets their staff know that they are appreciated, it just promotes an overall better feeling amongst each other as well as what they put out for the business.
Cathy: Okay.
Damon: One… one thing I always think about, too, is just management style. If you're a manager whether you're on the panel here or listening, it's like one of… one of the biggest things, it's… you're in the people business, right? So you're… and you want to empower everyone that you work with to have… use what they have and give them everything they need to succeed. In a large part, what I have realized is where most people struggle and I do, too is I, I struggle sometimes to paint the picture. If I'm asking somebody to do something, I struggle to, like, say what finished looks like.
"Hey can you do this?" and at the end, you know, "This is what I'm expecting or this is what I'm looking for" or something like that rather than "Hey can you do this done?" and then it's not done my way and then I start getting frustrated and then you have these battles and stuff and it's really just about the communication around that and that's where needs come in and managers. And I struggled with for a bit and I'm doing a lot of work on it. Therapy's great, also. 
But it's… you know, it's really asking what do you need and I will shift my management style or my communication style to ensure that you are getting what you need and that is empowering to the people who I am working with and asking things of. 
Cathy: Okay.
Elizabeth: I think, one thing that I've noticed… and so I've always been never really customer facing but more on the production and operations side. And in just the brewing industry in general, I feel like people tend to get promoted from within to a management role because that just happens to be the next thing but they don't really necessarily have management skills. 
So there's a lot of… it's like… well, you know, I… because I really think there would be some backlash if someone was brought in who didn't know how to do the jobs of everyone below them but someone who's going to be in that role is not necessarily going to be good at handling with handling people and so going from a brewery where communication was so difficult and I was made to feel stupid if I asked a question and you know like I stopped trying to communicate with my bosses because like, while they knew a lot about what they were doing, they… I… it just… they probably should not have been in a management role, whereas now it's just so much easier. 
So I realized that communication is such a key thing. And even in a group that's so small, it can be so frustrating like, "Oh there's four of us and you know something and I don't know it because they told you and not me." This is inexcusable and it just kind of makes you feel really frustrated because you know if I'm not important enough to have you just mention that while I'm in the room then what else don't I know? And so communication is just so huge, so going from somewhere where it was bad to somewhere where it's good… oh, it… baffling, yeah I mean… 
Cathy: And that issue… so my… my business partner Lori Lynch Brian and I, we do a lot of work with companies and that is not in any way unique to your industry. That is the world over industries over everybody faces some of those same challenges.
Elizabeth: The computer principle, right? 
Cathy: Yeah, there you go! Exactly. For those of you who don't know, that's where people rise to their level of incompetence, so. But we can avoid that. That can be avoided. Just with a little bit of a little bit of education, so. 
Hey, you know, one other question that we had thought about and this might be a good one to kind of get ready to wrap up on in a few minutes is how do you think that the issue of harassment and how it's handled is impacted by the fact that your industry is a lot of family-owned businesses? Do you feel like, that there's a positive impact because we're family, we work together, we care about each other? Do you feel like sometimes there's a negative impact because hey we can't raise the issue with this person because they're part of the family? What do you think the impact of family is on this?
Dez: I will say that small business owners don't have an HR and so…
Cathy: Yeah.
Dez: That is huge if you're not well liked if you're not popular.
Cathy: Yeah.
Dez: Or if again you know, your co-workers just don't see much in you so they're looking through you and bypassing you all the time. But yeah, that's the only negative I would bring to it. But I tend to think that, like, Torn Label is owned by small business owners. It is quite frankly the best company I've probably ever worked for in my life as far as way we're treated as a staff and just things are handled internally. And we don't have to, I mean, I've been there almost three years and we have not had an incident of like harassment or anything like that come up which is amazing because coming from restaurants where, you know, it's like sexual harassment begins at the parking lot walking into this place. 
So this is a refreshing part of my life, you know, to the last three years, be a part of a group where people are just, you know, more willing to really see the whole picture versus, you know. I don't like that about working for corporations. Yeah, they have an HR but then you still have to go to this like chain of HR to even get your email to someone's face. It's… it's a double-edged sword, I'm sure.
Cathy: Okay.
Penny: I'm definitely blessed and spoiled working at Crane because we are definitely family. I am so thankful for them because I've always been heard. Everybody has always cared about what I've thought about anything that's going on. My opinion on something new that we're doing, just any of that stuff and they always have my back. I'm working with Guapo, too. We're two peas in a pod and it's just… it's really it's been such a relief to be there and have that kind of family feeling and know that no matter what goes on there you've got that support.
Cathy: Okay, good.
Damon: Great. I have definitely been… go ahead, Bri.
Bri: Okay. I feel like it's… it all totally depends on the owners themselves, you know like, I know I've never worked at Crane but I know their culture. I've hung out there. I've hung out with all the employees. Penny used to work at Big Rip for a little bit like, I know how they are and they're awesome. And then on the other side there's some places where, you know, the owners and maybe half the bar staff are all like, really close friends or family, and then you get all their other close friends and family coming into the tap room just drinking for free and not tipping and not paying and doing whatever they want because they're family and that's the toxic side of it.
So it's kind of… and I feel like Chris and Michael and everyone over at Crane, like, they don't do that. They take care of their staff and the customers across the board. But yeah, I have seen some places that are on the more toxic side of that.
Damon: Yeah, um, I was gonna basically say the same thing. There's a bit of groupthink sometimes when you get a group of friends who start a brewery or a group or family. Oftentimes, one of the downsides of small businesses, friends, family, fools are the investors and those friends family fools are generally in the same group and have the same values or lack of values or whatever it is. And I've seen that in multiple places. 
And for any of those starting a business, get outside of your group. I suggest, find some people who might challenge you a little bit and accept it. But yeah, I've definitely been a part of multiple breweries where you've got, you know, heavy drinking culture, let's say, among the owners who are a group of friends. And then their family gave money, you know, and so it just kind of piled on it… on itself and that has been kind of a theme I would say in a lot of a handful of the breweries I've worked at and… and… yeah.
Cathy: Thanks… a minute…
Katie: Yeah…
Cathy: Oh, go ahead. I'm sorry Katie.
Katie: I… I hate to just like be alternative up in here, but I feel like there is a side at least that I've experienced where the family aspect can kind of present problems when trying to combat like harassment and things like, you know. For example, like, "Oh you can't… like, you really want to do that to him?" or um, you know, you almost feel like uh… like a loyalty like, "No, I can't get this."
Cathy: Right. 
Katie: You know, so I think it… like… um there's definitely two sides. I just feel like I've seen it where it can kind of create conflict and you know, like… like, emotional, like, turmoil, I guess based on it, if that makes sense.
Dez: Well, yeah. Yeah, like a lack of you have, like a lack of rules that like, corporate places have, you know, where they've got these these manuals and these things are set out and these are the things you're supposed to do and at a small business place, you know, it's kind of like we decide what floats when we have to think about that, you know, and that can… you're right that is…
Elizabeth: Oh, it's… yeah, being told by the head of big company that we're a family almost makes it so that it's harder to…
Dez: …complain.
Damon: Yeah, in that family, how often are you in a perfect family? So saying you're a part of a family business is a load of crap because my family is just like everybody else's and we're all jacked up in some way. So it's like… it's like, let's not use family. Let's just, like, work in a way that is constructive and peaceful and helpful. 
Cathy: Here, I'm going to hand this off in just a second to Project WHEN, but I do want to give each of you a brief moment because we're coming up on 8:30 here. If you had one thing that you wanted to share that you want people to think about or you want people to remember that this is how we can make a difference or this is what really matters in our industry, what would you like to share with people? I know it's a big moment to have.
Dez: Well I'll say… uh… I'll… I'll give… I'll give you guys some model healthy behaviors, you know. Don't just say you support black lives matter. Don't just say you support mental health. Don't say you support, you know, the LGBTQ community or whatever, you know, uh just models… model healthy behaviors and be an example of what you speak on and u… it usually tends to lead… to better behavior for everybody all around.
Cathy: Alright. Thank you.
Damon: All… there are a couple things. One is a lot…
Cathy: Just one.
Damon: Okay fine… um… uh… okay see your space as like a community space and see it as like a responsibility for the community and so what do you want for the community and for the… for people who come in and stuff? They're like, I just see… I feel responsibility every time I have a space that I'm in charge of to do good out of it. 
Cathy: Okay, thank you. Anybody else?
Bri: I would say, like, to… to the consumer, like, just try to remember that, you know, people that work in this industry, we're all just people, too and, you know, don't… you know, if you're my friend, don't hit me up and be like "Oh hey, are you at the brewery?" and, like, expect free stuff like, we're people, too. We're trying to survive, like, this is our livelihood, like, um we don't just drink beer and hang out. It's hard work so just remember that we're people just trying to survive just like everyone else.
Cathy: Thank you. 
Katie: I, it's just very simple. But beer is for everyone, like, gatekeeping is not necessary or, you know like, it's not productive like literally, like, anybody can enjoy a beer. Anybody can know about beer. Anybody can be an expert, like, I don't know… just like, share… share the space, I guess, those stuff, like, it's not a tournament.
Cathy: Thank you. Anybody else?
Elizabeth: I think, I've been trying to just check my own… uh… biases as I look at things kind of through the eyes of like what I would want, like… if, you know, I'm a brewer. If I'm behind the bar and someone was… and there's a male coworker, like, am I going to assume that… or if I was the customer, would I assume that I was the brewer like if I'm looking at a bar and there's a man and a woman behind and I'm told, "Oh, just go ask the brewer." Who am I going to assume it is? So just trying to be aware of biases that I hold and then realizing that those people, I mean, people are holding biases against me but just trying to be aware of my own, I think, is something I'm really trying to do.
Cathy: Thank you. Anyone else? You know, here's what I'm going to do then. I'm going to turn this to Project WHEN but if you had something else to say, put it in the chat because we'll sum it all up. And Damon, put your extra one in the chat because I'm sure it was important. I just want to respect…
Damon: I just did. It's about books.
Katie: I'm writing it down, actually.
Cathy: You did good. Thank you. Um, so I'm going to turn this back over to Project WHEN. Oh unless, did I miss… did somebody else have something that I missed? 
Matthew: I think you caught everyone in the analyst. So that was an amazing discussion so I just wanted to share some parting thoughts as we wrap up here of how you can get involved and continue to make a difference because obviously if you've attended this event, if you're on a panel, if you felt compelled to join and watch, you really care and you want to make a difference. 
So some of the ways to get involved and things you can do. Follow us on social media. We're constantly adding content of things that we're up to, things to think about, factoids, things to help you be better as a citizen and as an employee and as a colleague. Go to our website. We have a Pledge of Commitment on our website that we'd ask you to sign that details what we believe in and, you know, hopefully, you believe in as well that just kind of to hold yourself accountable and hold others accountable. Something Diane always tells people…
Diane: And I'll say that.
Matthew: Okay.
Diane: Please tell two other people about Project WHEN. We'll just get an exponential growth of awareness.
Matthew: So with that, I would really like to thank all the panelists for coming on and what you've shared. There's a lot of personal stuff things that you've gone through, your experiences, your insights and ideas, we truly appreciate it.
Cathy, you as a facilitator, wonderful job. We appreciate you guiding the discussion and keeping things moving, and then lastly, Chris and the Crane team for you to make a beer for us and to put on this event with us has just been a tremendous thing for our organization to help us spread the word and get more people thinking about, you know, what they can do and how we can make the world a better place, so thank you. And I wanted to turn it back over to Chris for any final thoughts.
Cathy: And I'm going to… Chris, just before you start, we did not actually hear from Penny at the end and she put her comment in the notes which was very nice and her main thing is, believe people when they tell you they're feeling harassed or unsafe. So thank you. That's really important.
Chris: Yeah I just uh, it's a lot. Um, I had texted Penny before the store I was probably gonna cry at some point so I'm glad I turned my camera off through most of it but it meant a lot to listen to all of you and hear your experiences and I still took notes and things I want to follow up on. But I really hope that, you know, things can improve and, you know, just opening discussions like these and people can, you know, talk to their friends, maybe everyone checks in on someone they know that has been having a hard time and just seeing what you can share. But uh, I really appreciate everybody who tuned in for this. Thanks! 
Diane: Thank you all.