Workplace Harassment Ends Now: A Systemic Approach – HRCI Webinar
May 27 @ 1:00 pm

-

2:00 pm

EDT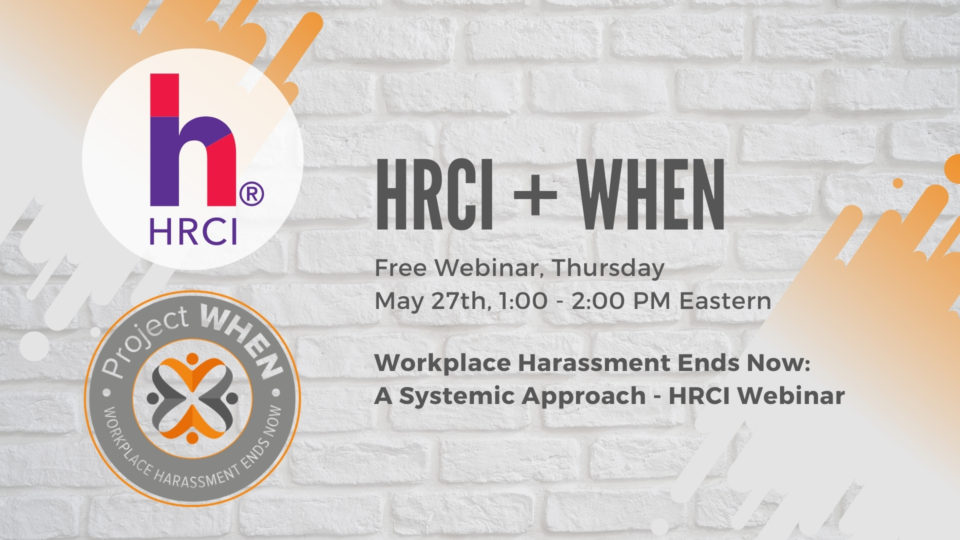 Human Resource Certification Institute (HRCI) has invited Diane Stegmeier, Founder & CEO of Project WHEN as a speaker in the Workplace Harassment Ends Now: A Systemic Approach webinar where she will cover the many areas of workplace harassment, including sexual and physical harassment, quid pro quo harassment, microaggression, bullying, ageism, job shaming, verbal threats, derogatory comments, discriminating or exclusionary behavior, and other forms of offensive behavior.
This is a free webinar. Attendees will learn the importance of adopting a holistic approach to address systemic harassment. They will gain insight on how creating a culture of respect is a solid foundation for preventing all forms of harassment in the workplace.
FAQs
1. How do I register for the event?
Please fill out the form found in this page: https://hrci-org.zoom.us/webinar/register/WN_-ZYD5gs8Q2Oyc2_dfSCxRg
2. What software/tools do I need to be able to participate?
Registrants will be provided a Zoom link that will allow you to view the event.
3. Can I invite a colleague or anyone in my network to attend?
Yes. Inviting anyone who wants to take part in this important discussion is highly encouraged. You can send this event page to them as an invitation.
4. Do I need to pay to be able to attend?
No. This event is free for all. Attendees do not need to pay for registration or any event-related fees.  If you found value from this event, please consider supporting us.  Project WHEN is a 501(c)(3) charitable non-profit, which relies on the generosity of corporations and concerned citizen.  To support our mission financially, visit our donation page.
Key Elements of the Webinar
This webinar will contribute to attendees' knowledge in the functional areas of aPHR Employee Relations; Health, Safety, & Security; aPHRi Employee Relations, Health, and Safety; PHR Employee and Labor Relations; and SPHR Employee Engagement & Relations.
aPHR Functional Area 05 Employee Relations & 06 Health, Safety, and Security:
Applicable laws affecting employment in union and nonunion environments, such as laws regarding antidiscrimination policies, & sexual harassment
Workplace behavior issues (aggressive behavior, employee conflict, & workplace harassment)
Risk mitigation in the workplace (health & safety, risk management, violence)
aPHRi Functional Area 05 Employee Relations, Health, and Safety:
Workplace behavior issues (aggressive behavior, employee conflict, & workplace harassment)
Applicable laws and regulations related to workplace health, safety, security, and privacy (personal health and safety)
Risk management in the workplace (health & safety, and employee violence)
PHR Functional Area 05 Employee and Labor Relations:
Understand organizational culture, theories, and practices; identify opportunities and make recommendations
Implement and support workplace programs relative to health, safety, & security following federal laws and regulations (EEOC)
Manage complaints or concerns involving employment practices, behavior, or working conditions, & escalate by providing information to appropriate stakeholders
Promote techniques and tools for facilitating positive employee and labor relations with knowledge of applicable federal laws affecting union and nonunion workplaces (anti-harassment)
SPHR Functional Area 05 Employee Engagement & Relations:
Analyze and evaluate strategies to promote diversity and inclusion