Become an anti-harassment certified company
Passionate about eliminating harassment and creating a more respectful workplace?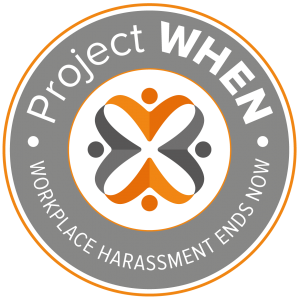 Project WHEN believes the challenges organizations face in attempting to reduce harassment—or eliminate it altogether—is systemic, and the solutions must be as well.
Other approaches to reducing workplace harassment that we've studied have been driven from the perspective of legal and compliance. Those efforts have been limited to women as victims, and only to sexual harassment, the solutions of which are often punitive.
Companies can embark upon a holistic approach by enrolling in the WHEN™ Organizational Certification program. You'll be guided through a step-by-step process to gain full advantage of diverse research findings, curated resources, EEOC guidelines, and best practices in preventing all types of workplace harassment and managing workplace change.
Certification can make a powerful commitment to preventing workplace harassment to your existing and potential employees, customers, and the community, and provide your organization a means of gaining recognition for your efforts in creating a culture of respect in the workplace.
The business case for becoming a WHEN™ Certified Company
There are a variety of reasons why an organization would want to pursue WHEN™ Organizational Certification; let's take a look.
The social impact of reducing harassment at work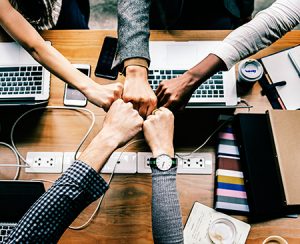 Employees in countless organizations and diverse industries have long suffered as victims of harassment. Often, offensive conduct silently occurred or was swept under the rug. In cases where there was knowledge of harassment, the corporate response too commonly was to ignore the bad behavior. No one would put their own jobs on the line by challenging a harasser who typically held a position of great power.
Victims have been threatened to not break the silence, and often didn't report the harassment for fear of retaliation. Many victims of sexual harassment are members of marginalized groups, for example, women in lower wage positions who are heading up a single-parent household. They cannot afford to lose their paychecks, and choose to suffer quietly.
Yet harassment is not only about women, and it's not just sexual. Bullying, microaggression, and other offensive behaviors against LGBT+, people with disabilities, older members of the workforce, or individuals from other cultures lead to toxic, unproductive work environments. Harassment can result in workplace violence and suicide.
Why now? Public awareness of the increasing number of claims of harassment and bullying has opened our eyes to its severity. The courage of those victims who have fought back, bringing attention to the circumstances under which so many have been made to suffer in order to earn a paycheck, has created the ammunition–and the social appetite–to do something to protect worker rights…NOW.
Statistics on harassment in the workplace
Sixty-three percent of women reported having been harassed in the workplace, with 33% experiencing it more than once.
Only 20% of the women who had been harassed reported the incident. For those who did not report the offense, the primary deterrent was the fear of retaliation.
The U.S. Equal Employment Opportunity Commission (EEOC) received 7,514 sexual harassment charges in Fiscal Year 2019.
Protect your company against workplace harassment claims
Your organization has been required for quite some time to comply with EEOC legislation.
You are responsible for complying with existing legislation put into place by the state in which your company is headquartered and the states where your employees reside/work. Regulations are quickly evolving and becoming more complex. Pending legislation should be at the forefront of your anti-harassment strategy.
Enrolling in a structured program can ensure you're covering all the bases.
What type of organizations should consider becoming certified?
Organizations that recognize the importance of strategically determining how they wish to shape the narrative of diversity, equity, inclusiveness, and respect in the workplace
Large, small, public, private, for profit and nonprofit alike are all great fits for organizational certification
Companies that pride themselves on achieving best place to work awards and maintaining employer-of-choice status
Companies where "people are our best asset" is more than just a slogan
Organizations that are trying to recover from the negative publicity of harassment claims, toxic cultures, and poor job board site reviews and ratings
Companies operating in highly competitive industries or markets looking for a competitive means of attracting and retaining talent
What are the benefits of WHEN™ Organizational Certification?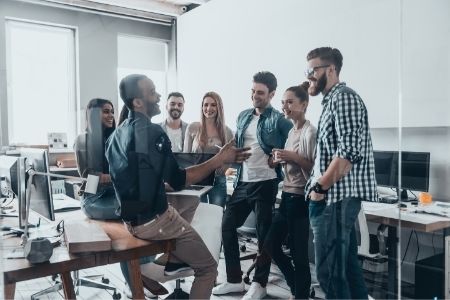 When companies begin the WHEN™ Organizational Certification process, they will immediately take the first steps toward developing a culture of trust, respect, and purpose for all employees, and a harassment-free work environment for future generations.
Employees who work for a company that has adopted WHEN™ Certification criteria will be free to truly be themselves when they come to work. The employer can reduce the stigma and fear of retaliation against people who speak up for themselves and for others.
Trust will strengthen between individual contributors and their managers when employees observe that people are held accountable for their behaviors. The organization can enhance the employee experience and increase employee engagement, contributing to improved attraction & retention rates. This trust also adds to workforce productivity, creating a competitive advantage.
The results can contribute to the success of the company's inclusion, equity, and diversity initiatives.
The annual benchmarking process, a component of certification, will enable the quantitative and qualitative measurement of the aggregate number of employees touched by the initiative, reduction in the number of harassment claims received, improvement in employee confidence in the systemic change underway, and other important data.
What is the process for becoming a WHEN™ Certified Organization?
Can your organization commit to adopting an actionable set of criteria to develop a harassment-free work environment? Are you ready to directly and positively impact the safety, security and well-being, not only of women and other marginalized groups, but of your entire workforce? Read on.
Anti-Harassment Organizational Certification – Phase 1
Registering in the WHEN™ Certification Program is the first step in working closely with the Project WHEN team, who will answer questions throughout the process, coach your company, and serve as a guide to help you navigate through the certification steps and the experience.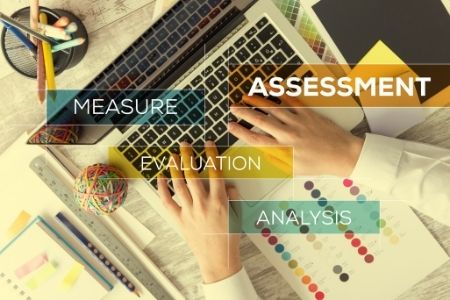 Project WHEN will administer, host, and monitor an electronic assessment of your workforce to establish a baseline metric against which future progress and improvements will be compared. The assessment includes an exploration of your corporate culture such as found in climate surveys. Data will be gathered on employee knowledge of existing resources (anti-harassment policies, training, processes for reporting), and their confidence in the company providing a safe and harassment-free work environment.
Questions will be included to quantify and qualify employee experiences and observations of harassment, bullying, microaggressions, and other unwanted behaviors in your workplace. The assessment will include questions to capture employee perceptions of the work environment, and will offer the opportunity for participants' open-ended feedback.
The results of the assessment will be analyzed by Project WHEN. Employee responses will remain anonymous to encourage honest feedback.
The deliverables of this phase of the certification process include a full set of the raw data gathered in the assessment, a comprehensive report identifying any areas for improvement, and recommendations to address those areas, with the goal of achieving certification.
Anti-Harassment Organizational Certification – Phase 2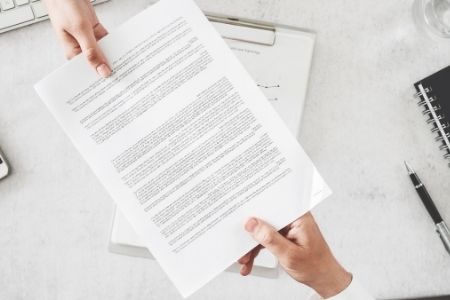 In Phase 2, your company will be provided a complete Certification Criteria Guide that will explain the required categories included in the certification (Commitment, Leadership Involvement, Policy, Change Management, Communications, Diversity + Inclusion, Reporting, Investigations, Reinforcement, Accountability, Training, Data Gathering, Benchmarking, & Other).
Using an actionable, easy-to-use checklist, and referring to the raw data, and the report and recommendations you received in Phase 1, your company will gather documentation (information, examples, and materials) relevant to the Certification Criteria.
Your company will have access to the Project WHEN team for coaching and guidance as you gather your documentation and evidence of implementation to be submitted to Project WHEN for review in consideration of certification.
Anti-Harassment Organizational Certification – Phase 3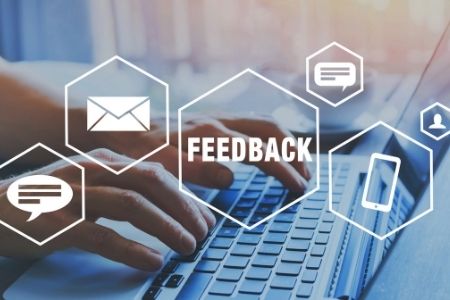 In Phase 3, Project WHEN will conduct a comprehensive review of your submitted documentation. The Project WHEN team will interface with your company for questions, clarification, or additional documents as needed.
Your company will have the opportunity to edit responses or refine evidence of implementation based on feedback from the Project WHEN team. Our role is to support your success in becoming certified!
Once certified, your organization can promote this prestigious accomplishment in its internal and external corporate communication. Use your digital badge of certification at career fairs, post on your corporate Career & Jobs board, incorporate it into your email signature lines, or brand your onboarding, training, and professional development materials. Remind employees that the company is committed to a harassment-free work environment with posters and banners. Incorporate the digital badge into your letterhead for press releases.
Certified companies will participate in an annual benchmarking study, which will track their own improvements, as well as provide a comparative view of their results in relation to other employers.
Moving forward, exemplary certified companies can further demonstrate their commitment to respectful, harassment-free workplaces by setting the same expectations of its supply chain, or by challenging their industry peers to sign the Pledge and/or enroll in WHEN™ Organizational Certification.
Who should lead the process for my company?
Every organization is different, but, with the sponsorship of executive leadership, typically the main point of contact to interface with us during the certification process would be a senior Human Resources leader that could serve as a connection to your organization's Legal, Compliance, and Inclusion & Diversity groups. Your company will be supported by a Project WHEN change management expert.
How long does it take to become certified?
The duration of a company's certification process may vary based on the number of employees, size of the enterprise, complexity of its structure, geographic locations, etc. In general, please anticipate a minimum of 90 days to go through the process of certification.
How else can we get involved with Project WHEN?
We recognize that not every employer will be interested in achieving organizational certification. Even without undergoing the formal process, there are many things employers can do to get involved with Project WHEN and build a culture of respect for their workforce.
Consider sponsoring individual employees from your organization to pursue professional certification from Project WHEN. Certified individuals will elevate their skillset and learn how to deal with and prevent harassment in your workplace.
Our web-based program, developed in conjunction with HRCI, is great for Human Resources practitioners, Inclusion & Diversity leaders, or any employee who is passionate about creating a more positive workplace. As Project WHEN accelerates its efforts to drive systemic change, individuals who complete the WHEN™ Professional Certification will have the knowledge, credibility, and tools to influence change within their own company.
While you're here, take a moment to sign our Pledge of Commitment to make your workplace a more respectful place of employment. Then challenge two other people to do the same!
Ready to kickstart the conversation of what needs to change at your company? Let's open up a dialogue via a Project WHEN Roundtable Discussion. Held virtually for your internal teams or local business community, these facilitated events are a great way to begin identifying opportunities for improvement in your culture and processes.
Lastly, consider making a tax-deductible financial contribution to Project WHEN and adding us to the list of 501(c)(3) charities on your annual employee giving campaign.