Let's talk about preventing harassment.
Begin the conversation at your place of work or in your business community by hosting a Project WHEN Roundtable session. Let's discuss current challenges and action steps to start making our workplaces more respectful now.
What's it look like?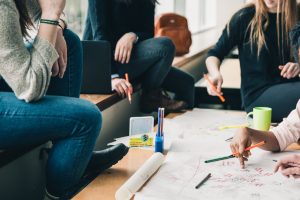 Roundtables begin with a brief talk, delivered by a senior Project WHEN staff member, about how our workplaces are changing and how certain behaviors that may have been permissible in the past are no longer acceptable.  We'll touch on the challenges facing businesses and employees today, and then shift gears to an intimate, facilitated discussion where attendees can openly and freely discuss their observations, concerns, and ideas.  Through this event, attendees will very quickly realize some of the immediate action steps that can be taken to ensure their workplace is a respectful one for all employees.
Who attends a Project WHEN Roundtable?
Typically, attendees will be C-suite execs or senior leaders from functions such as human resources, compliance, legal, and administration, but anyone that is passionate about making their workplace a welcoming environment where employees can thrive should be on your invite list.  Roundtables can be hosted as an internal event for your organization or may be sponsored and put on for your local business community, either in a geographic area or industry sector.
Sounds great! How do we make this happen?
Project WHEN will work with you to handle the logistics and fine-tune any specifics for the event.  You can get the process started by reaching out to us here.  As a 501(c)(3) charitable nonprofit, we rely on grants, corporate sponsorships, and donations from organizations like yours to continue our mission of eliminating harassment in the workplace. In order to put on an event, we ask for a good faith contribution to cover our expenses and contribute to our research and ongoing operational efforts.