Yvonne Abel, Formerly Abt Associates
Yvonne Abel combines three decades of research and evaluation experience with leadership and culture change practices to drive strategy, performance and impact. Motivated by a desire to help people thrive, Yvonne's work has focused on improving the wellbeing of others, whether addressing health care access issues for the uninsured and underserved or creating an inclusive environment in which individuals and teams in organizations can excel. She is a visionary and strategic thinker who is authentic, instills trust, and achieves results by creating mutual respect. She believes in upholding and supporting others to identify purpose and meaning, realize a sense of belonging, and find the inspiration to bring their best to work and life.
Yvonne brings key qualifications in program evaluation and implementation, targeting both large-scale demonstration programs and community-based initiatives. Her work has included strategic planning, conducting systems and impact analyses, as well as assessing federal, state, and local efforts to improve and integrate service support systems and to extend and strengthen community capacity. Specific strategies include the development of strategic networks and partnership building, examining the effectiveness of outreach and education efforts, supporting policy change, as well as the creation of performance indicators for comprehensive change efforts. She has also led and advised on projects ranging from infrastructure development to technical assistance for designing performance assessment systems and implementing strategic communications.
Most recently, Yvonne held the position of Senior Director, People and Culture at Abt Associates Inc. for which she was responsible for the implementation of a dynamic organizational culture and people strategy resulting in high-impact change for the organization. This involved leading enterprise-wide culture assessment and change, workplace strategy, talent and leadership development, and the creation of a diverse and inclusive employee experience. The latter included the establishment of Equity, Gender, and Inclusion (EGI) efforts, resulting in becoming a signatory of Boston Women's Workforce Council 100% Talent Compact, adoption of Global Health 50/50 standards, creation of a sexual exploitation and abuse workgroup, and pursuit of an external gender equity certification.
She has an MS in Economics and has worked with Federal and state government agencies, foundations and philanthropic organizations, as well as global and community-based organizations. She has presented at national and international association meetings, designed and conducted extensive training sessions, and is certified in organizational culture assessment, leadership development, cultural integration for merger and acquisitions, and focus group facilitation.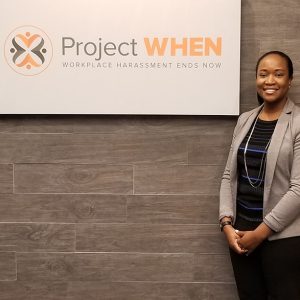 Marlena Boyce, The Sherwin-Williams Company
Marlena Boyce is an experienced Human Resources Executive with over 20 years of professional involvement in the public and private sector. Her passion for people has been demonstrated by her leadership in delivering educational sessions across North America that focus preventing and eliminating workplace harassment. Her achievements include implementing innovative human resources strategies globally and building strong teams, resulting in several successful programs that positively impact inclusion and diversity, employee engagement, and leadership development.
Marlena is currently a Sr. Vice President of Human Resources at The Sherwin-Williams Company. She is a graduate of DeVry University's Keller Graduate School of Management with a Master of Business Administration. She earned her Bachelor's Degree in Human Resource Management from DeVry University. Marlena also has her Professional in Human Resources certification from the Human Resources Certification Institute.
"During my career, I had the privilege of serving as Director of Diversity and Inclusion, and leading Women's Leadership groups across North America. I also spent time leading a Human Resources team while living outside of the United States. What I enjoyed most about this experience was assimilating into another culture and seeing the similarities and workplace needs that all people share.
What excites me the most about being a part of Project WHEN is the opportunity to further my commitment to eradicate all areas of workplace harassment. When most people think of workplace harassment, they often focus on sexual and physical harassment. Some of my previous work included bringing awareness to all areas of workplace harassment, including bullying and gender-based harassment. It continues to be my mission to promote inclusion and positive employee relations at all employee levels."
Jameson Graceffa, PerkinElmer
Jameson (Jamie) Graceffa is CLO & Global Head, Talent Management, Diversity, Equity and Inclusion at PerkinElmer. He has a BA in Sociology from Framingham State University, and earned a MA in Management from Cambridge College. Jamie is the author of the book, Career Control: Love the job you're in or the one you want.
"I am fascinated by the workplace. People come together from all walks of life to collaborate, create and work towards greatness. We are there because we have skills and abilities the organization values. We hold job titles that indicate what those skills and abilities are and when we sit around the table or Skype, there's an expectation and understanding of why we're there and what we'll do. But we are so much more than our job titles.
We come with a whole host of experiences and behaviors that make us who we are. Most organizations, rightfully so, focus on technical ability when hiring talent, but only some organizations focus equally on behaviors. Behaviors that serve their company culture and positively impact the people that work there.
Earlier in my career, when I worked as a human resources business partner, I had to investigate matters of harassment. Far too many times I was told that as long as the person wasn't breaking a law, there wasn't much we could do as there is "No law against being a jerk." I thought to myself, well, there should be! All my life, I've looked out for the underdog, helping people who have been treated less than, marginalized, belittled, bullied, and deliberately excluded. It is my passion to ensure that people feel safe, comfortable and free to be who they are at work. So much work needs to be done.
It is an honor and a privilege to be part of Project WHEN, where we help and guide organizations to create the best place possible for their employees to work, thrive, succeed, have fun, innovate, and love what they do and where they do it."
Clarissa Peterson, Ohana HR, LLC
Clarissa A. Peterson is the President and CEO of Ohana HR, LLC. The goal of Ohana HR, LLC is to enable organizations in achieving their strategy by inspiring people to excel and do their best work.
Clarissa is a Chief Human Resources & Ethics Officer with over 25 years of leadership in human resources. Her business expertise also includes strategic planning, ethics and compliance, and mergers and acquisition integration in global and domestic companies. She has experience in all areas of HR, with special interests in team development, executive coaching, board development, data analytics, cultural transformation, and mindfulness.
During her career trajectory, Ms. Peterson has served in several leadership positions. She was most recently Senior Vice President & Chief HR Officer of Sophos, a global cybersecurity company. Prior to that Clarissa was the Chief Human Resources & Ethics Officer of Abt Associates, a professional services firm that applies systems analysis and social science techniques to social and economic problems. She also served as Chief People Officer for DLA Piper, one of the world's largest law firms.
Clarissa is the past Chair of the Board of Directors of the Human Resources Certification Institute (HRCI), the internationally recognized certifying organization for the HR profession with more than 500,000 certificants in 100 countries. She co-authored the book Maximizing Your HR Efforts (Thomson Reuters /Aspatore, 2009) and is a co-author of the e-book The Rise of HR: The Wisdom of 73 Thought Leaders (2015).
Peterson is a graduate of the University of Maryland, University College and holds the Global Professional in Human Resources (GPHR); Senior Professional in Human Resources (SPHR) and LPEC (Leading Professional in Ethics and Compliance) certifications. She holds several additional certifications including, DISC, Myers-Briggs (MBTI), Mergers and Acquisitions integration and Korn-Ferry Leadership Architect, Interview Architect and 360 Feedback Facilitation and Interpretation.
Diane Stegmeier, Stegmeier Consulting Group
Project WHEN was founded by Diane Stegmeier, who is considered a global thought leader in change management and workplace research. She has been engaged by diverse clients around the world, including Harvard University, Expedia Inc., Time Inc., Nike, Cigna, Iron Mountain, WarnerMedia, Nestlé, John Wiley & Sons, Inc., Philips, Guardian Life Insurance, Cleveland Clinic, Principal Financial Group, Northwestern Mutual, and Medical Mutual.
She is best known for her extensive research on resistance to workplace change and her discovery of the 15 Critical Influences™ impacting behavior in the workplace, success of the workplace strategy, and ultimately, on the achievement of organizational results. The 15 Critical Influences™ include the following factors: Leadership Behavior; Culture; Rewards & Consequences; Core Values; Organizational Structure; Compensation; Autonomy & Authority; Communications; Vision & Mission; Image; Performance Management; Business Processes; Technology; Knowledge Management; and Physical & Virtual Workplace. Those research findings were compiled in her book, Innovations in Office Design: The Critical Influence Approach to Effective Work Environments, which has been ranked the #1 Workplace Strategy Book by Amazon readers. The publication has been adopted as a text or reference book by universities on six continents. The author is the recipient of the International Facility Management Association's (IFMA) Award of Excellence, Distinguished Author for a Book. In the words of Dr. Prentice Knight, former CEO of CoreNet Global, "Diane Stegmeier's landmark findings on behavior in the corporate setting will prove vital in determining workplace strategy over the next ten years."
Diane is formally educated in change management. She earned an MBA with a concentration in Leading Organizational Change from Kent State University, graduating in the top five percent of all masters / doctoral students of AACSB accredited business programs nationally. She is an alumna of the Leadership for Senior Executives program at Harvard University, and has conducted post-graduate research on innovation and organizational change at a variety of leading institutions including Harvard University's Kennedy School, Duke University's Fuqua School of Business, Bowling Green University, and Case Western Reserve University's Department of Organizational Behavior. She holds a bachelor's degree in Business from Baldwin-Wallace College with dual concentrations in Business Law and Business Ethics.
Diane Stegmeier's affiliations have included the Association of Change Management Professionals, American Institute of Architects, International Facility Management Association, CoreNet Global, Society for Human Resource Management, Human Resource Planning Society, International Society for Performance Improvement, and the Board of Advisors for Kent State University's Interior Design Program. She is a member of the Advisory Board for the Telework Coalition, and the Industry Advisory Board for The Journal of eWorking, published by Merlien Institute in The Netherlands.
Diane is authoring a chapter entitled "Leadership 2030: Driving Innovation in the Workplace of the Future" for the forthcoming book, The Wiley Handbook of Design & Innovation: Trends, Scenarios and Recommendations for 2030 and Beyond. The John Wiley & Sons' publication will analyze the economic, political and resource challenges society will face in 2030, and discuss how office design might respond in accordance.