Sexual harassment in the workplace: How companies can prevent it and what employees can do if it happens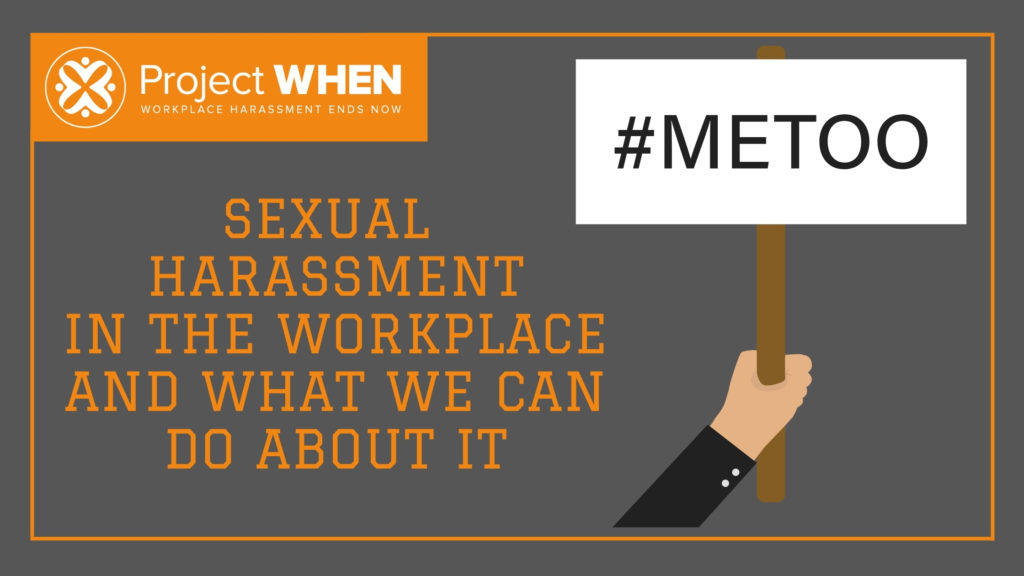 Awareness against sexual harassment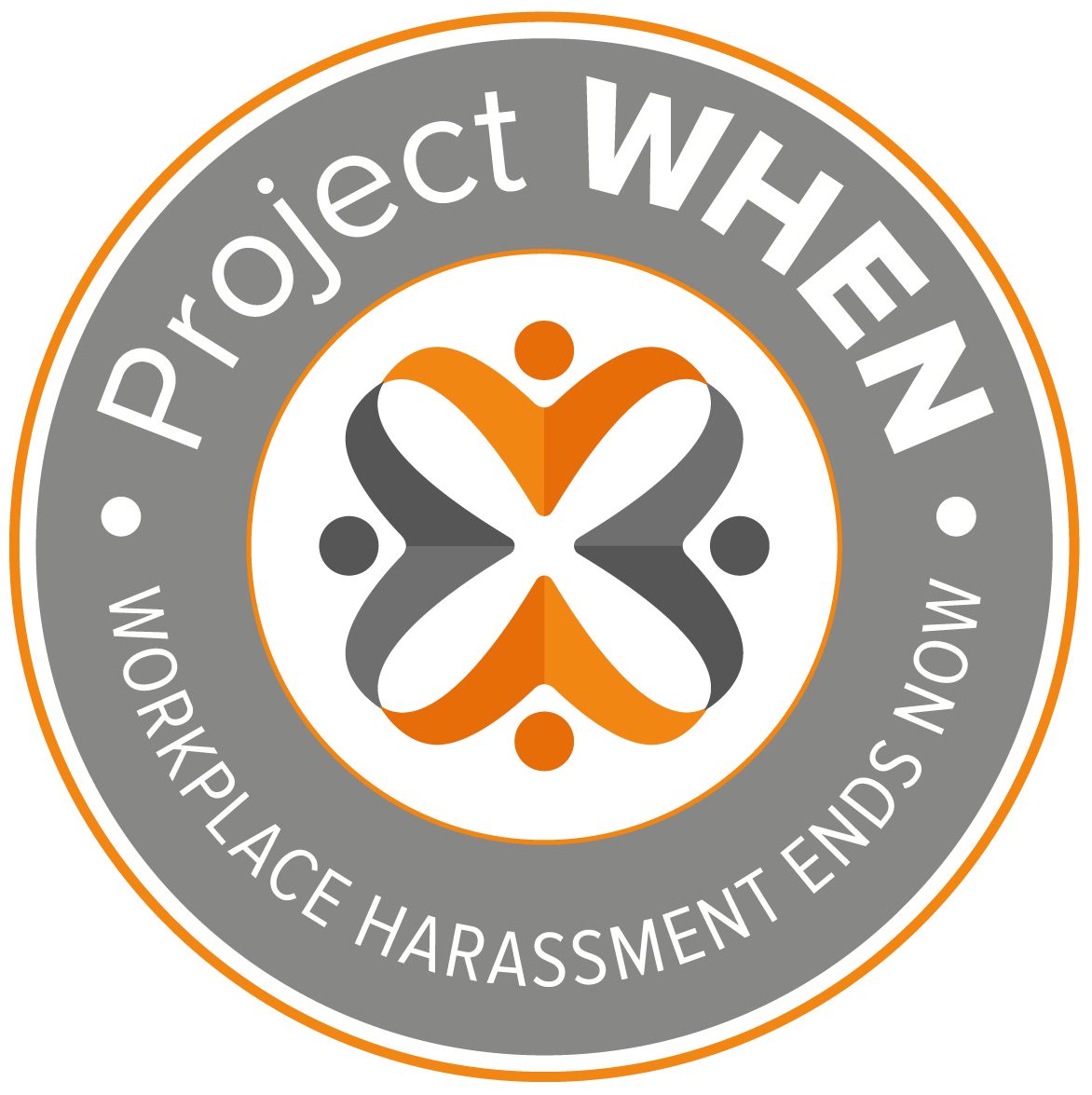 Are you a victim of sexual harassment or have you observed it happening in your workplace? Let's explore some facts that you should know in order to handle it. 
Our mission at Project WHEN (Workplace Harassment Ends Now) is to elevate awareness to eliminate harassment and create more respectful workplaces. This post on sexual harassment is part of our series of pages educating the public about various types of workplace harassment, how employers can prevent it, and employees' rights under the law. 
What is sexual harassment?
Sexual harassment in the workplace has different manifestations. It can take the form of unwanted sexual behaviors and advances; inappropriate requests for sexual favors; unwelcome verbal or physical harassment of sexual nature; and quid pro quo, which is the act of offering employment benefits or conditions in exchange for sexual acts.
It is important to note, however, that although it is often associated with acts of sexual nature, sexual harassment can also mean receiving severe or offensive comments about a person's sex or gender, creating a hostile and unsafe work environment for the victim.
In this post, we'll touch on the history and impact of sexual harassment in the workplace, the laws offering protection for victims, and the recourse victims of sexual harassment have under the law. 
Importantly, we'll cover what employers can do to prevent it from occurring in the workplace, along with delving into what companies should do when an incident of sexual harassment takes place. You'll also find a number of resources we feel are helpful for those dealing with sexual harassment.
The history and impact of sexual harassment in the workplace
The phrase "sexual harassment" was not existent until the 1970s, but its pervasiveness and manifestations have been well understood by people, especially by women even before the term was coined. In the 18th and 19th century, female slaves and domestic servants were often coerced into sexual relations by those who supervised their labor. The late 19th and 20th century saw women in clerical jobs and the manufacturing industry experiencing various types of harassment such as sexual assault and physical or verbal advances. 
There were legislations in place but those didn't offer substantial protection to female laborers. Gathering up the courage to report these unwanted incidents was difficult enough. But if they did submit complaints of rape, assault, or even verbal harassment, it would greatly tarnish their reputation and make it hard for them to pursue marriage prospects.
As documented in an article by Reva B. Siegel, it wasn't until the 1970's when America's justice system started to recognize that women have the right to work without the fear of being sexually harassed or assaulted. Lawyers worked hard to impart to the American judiciary that sexual harassment is a form of discrimination based on sex. The women's rights movement and the work of theorists such as Catharine McKinnon also contributed to this turning point in history.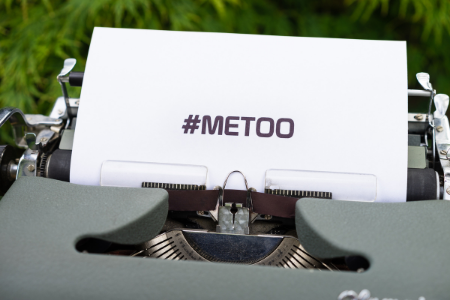 The following decades gave way to further developments such as the amendment of Title VII of the Civil Rights Act of 1964 to allow victims to recover damages for sexual harassment and the Supreme Court ruling that harassment can occur between people of any gender.
The founding of the "Me Too" movement in 2006 by Tarana Burke started a whole new wave of awareness against the pervasiveness of sexual harassment and was intensified by the use of #MeToo hashtag in 2017. It encouraged women to voice out their experiences and urge the public to put a halt to this destructive behavior. The movement also exposed sexual misconduct happening in various industries and even in most prominent companies.
After centuries of dealing with this systemic issue, how are things progressing? Let's take a look at recent data related to workplace sexual harassment in the next section.
Statistics on sexual harassment
Charge data from Equal Employment Opportunity Commission (EEOC) shows that 10.3% of the total filings they received in fiscal year 2019 included claims of sexual harassment. Undeniably, sexual harassment remains one of the most pressing issues in the workplace today. 
While discussions about sexual harassment often center on women's experiences, statistics show that it also happens to male members of the labor force. In 2019, 16.8% of sexual harassment charges were filed by men. Everyone, regardless of sex or gender, is vulnerable to this pervasive issue.
To combat it when it happens, one must learn facts about sexual harassment. Read on to explore which laws protect you from it, as well as key actions that companies and victims can take when dealing with it.
Sexual harassment laws
Federal Laws
Under the Title VII of the Civil Rights Act of 1964, no employer can discriminate against an applicant or employee on the basis of sex/gender in aspects of employment such as hiring, firing, promotion, layoff, bonuses, etc. As a form of sex discrimination, sexual harassment is also illegal under this federal law, which means that employers have the responsibility to prevent, address, or stop such behavior from occurring in the workplace.
Who is covered by Title VII? The law requirements apply to private employers, state and local governments, federal government, employment agencies, and labor organizations with 15 or more employees.
One-off incidents and simple teasing that do not cause adverse effects are not illegal under the law. It is unlawful, though, when these harassment acts are done frequently and contribute to a hostile working environment or severely affect the victim's employment status.
Moreover, the harasser and the victim do not have to be of opposite sex for sexual harassment to happen. The harasser can be the victim's supervisor, manager, leader, employer's agent, co-worker and even those external to the company such as vendors and customers.
Retaliation is also prohibited under Title VII. This means that it is illegal for an individual to be retaliated against because he/she is speaking up about sex discriminatory practices in the workplace or is actively participating in investigations alleging sexual harassment.
Below are excerpts from Title VII of the Civil Rights Act pertaining to sexual harassment or discrimination based on sex.
Title VII of the Civil Rights Act of 1964:
DISCRIMINATION BECAUSE OF RACE, COLOR, RELIGION, SEX, OR NATIONAL ORIGIN
SEC. 703. 
(a) It shall be an unlawful employment practice for an employer –
(1) to fail or refuse to hire or to discharge any individual, or otherwise to discriminate against any individual with respect to his compensation, terms, conditions, or privileges of employment, because of such individual's race, color, religion, sex, or national origin; or
(2) to limit, segregate, or classify his employees or applicants for employment in any way which would deprive or tend to deprive any individual of employment opportunities or otherwise adversely affect his status as an employee, because of such individual's race, color, religion, sex, or national origin.
OTHER UNLAWFUL EMPLOYMENT PRACTICES
SEC. 704.
a) It shall be an unlawful employment practice for an employer to discriminate against any of his employees or applicants for employment, for an employment agency, or joint labor-­management committee controlling apprenticeship or other training or retraining, including on—the-job training programs, to discriminate against any individual, or for a labor organization to discriminate against any member thereof or applicant for membership, because he has opposed any practice made an unlawful employment practice by this subchapter, or because he has made a charge, testified, assisted, or participated in any manner in an investigation, proceeding, or hearing under this subchapter.
(b) It shall be an unlawful employment practice for an employer, labor organization, employment agency, or joint labor-­management committee controlling apprenticeship or other training or retraining, including on­-the-­job training programs, to print or publish or cause to be printed or published any notice or advertisement relating to employment by such an employer or membership in or any classification or referral for employment by such a labor organization, or relating to any classification or referral for employment by such an employment agency, or relating to admission to, or employment in, any program established to provide apprenticeship or other training by such a joint labor­-management committee, indicating any preference, limitation, specification, or discrimination, based on race, color, religion, sex, or national origin, except that such a notice or advertisement may indicate a preference, limitation, specification, or discrimination based on religion, sex, or national origin when religion, sex, or national origin is a bona fide occupational qualification for employment.
State Laws
Aside from federal laws, most states enforce laws that protect employees from being sexually harassed. The best way to learn more about additional protections you may receive locally is to refer to your state's department of labor website. Our guide on reporting incidents of workplace harassment links to each state's DOL website, as well as some of the regional and city organizations, for those in more populous areas.
Recourse for victims of sexual harassment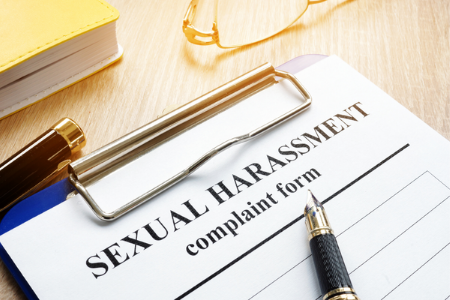 For an incident to be considered harassment, the act must be against the will of the victim. Hence, if you have been sexually harassed, it is a must to tell the harasser (whether verbally or in written form) that the behavior is unwelcome, offensive, and should stop. Documenting evidence of the conduct would also be helpful for the investigation.
Reporting it to your company's HR or filing a complaint internally is encouraged if your company has harassment policies in place. But if you are not seeing any signs of moving forward, you have the option to consult legal counsel or a lawyer. These professionals can help you evaluate the case and provide valuable advice regarding your claims.
A best next step could also be filing a charge either through your state administrative agency or the EEOC, a federal agency that enforces federal laws related to harassment and discrimination in the workplace. You are not required to speak with an attorney before approaching a government agency to discuss your situation; these entities are in place to protect your rights as an employee and are typically willing to give guidance on suggested next steps for you as a victim.
To know about the process of reporting sexual harassment cases, refer to our full guide on How to Report Workplace Harassment Incidents. This article provides a comprehensive list of state resources and local U.S. Equal Employment Opportunity Commission offices. You can also head directly to the EEOC's page on How to File a Charge of Employment Discrimination. 
What can companies do to prevent sexual harassment?
Employers are legally responsible for ensuring the safety of every member of their workforce. To prevent sexual harassment and other discriminatory practices from happening, employers must articulate to all employees that these conducts are prohibited in the workplace. Establishing harassment policies is a great way to protect individuals and inform them that your company does not tolerate workplace harassment.
The advocacy to prevent harassment is most effective when the initiative starts with senior leadership, but sometimes change takes one individual who has the courage to speak up. If you are passionate about ensuring the safety of employees from the different manifestations of harassment and discrimination, consider getting your company involved with Project WHEN (Workplace Harassment Ends Now). 
As a first step, we'd ask you to sign our Pledge of Commitment to demonstrate your commitment to creating a respectful, harassment-free workplace for your employees.
For a holistic and structured approach to living out your commitment, we would encourage you to enroll in the WHEN™ Organizational Certification program. In this program, we will guide you through a step-by-step process of preventing all types of workplace harassment. This certification will also serve as a powerful statement to both internal and external audiences about your commitment to making your workplace a safe space for everyone.
What should companies do when sexual harassment happens?
When an employee reports an incident of sexual harassment, it is the employer's responsibility to respond to it and if necessary, initiate investigations to be able to address the issue. It is encouraged to acknowledge the victim's complaint and keep him/her informed about the status of the investigation and if there will be corrective actions taken.
Harassment will only happen when companies lack awareness and implementation of preventive measures. When tell-tale signs of hostility are observed within the organization, it is time to start dismantling it by engaging in meaningful conversations and breaking the status quo. 
If you are ready to begin discussions on creating a more respectful work environment, we can facilitate a Project WHEN Roundtable. This event can help attendees identify challenges present in their current working conditions and gain insight on the best action steps to eliminate traces of discrimination in the workplace. If you are an individual who thinks that it is time to see change happening in your company, let your employer know about this and ask for a facilitated discussion to take place.
Remember, the problem of sexual harassment will not solve itself. It is important for everyone to develop heightened awareness of what they can do to make a difference. Change will only take place if people within the workplace take the initiative to address issues, no matter how uncomfortable it may be.
Additional resources and recommended readings
For more information about sexual harassment, we've rounded up some resources that you can consult and find below. 
End sexual harassment now
Nobody should have to face sexual harassment or any other form of harassment, for that matter. Project WHEN is a 501(c)(3) nonprofit organization working hard to make workplaces more respectful for everyone. Elevating awareness to prevent workplace harassment from taking place is what runs at the core of our organization.
Whether you'd like to make a financial contribution to support our work, sign the Project WHEN Pledge of Commitment, have your employer host a Project WHEN event, or just join our mailing list to learn of volunteer opportunities, everyone can get involved with Project WHEN!