Harvey Weinstein Sentenced to 23 Years in Prison. Finally.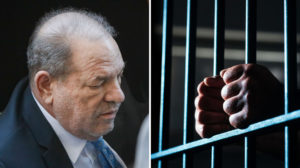 On March 11, 2020, Harvey Weinstein was sentenced to 23 years in prison. Finally.
Harvey Weinstein has spoken. Today, just prior to sentencing, he delivered a long and rambling monologue of self-defense and self-justification, bemoaning "the state of a country in which thousands of men are losing due process for behavior about which they are confused. I'm totally confused. Men are confused about this issue."
Funny, but others have described him using various terms, but none that mentioned he was a 'confused' man. In court today, lead prosecutor, Joan Illuzzi, shared a number of quotes made by people who knew or have worked with Weinstein: "He is the devil. A liar. Very bad temper. Bragged that he would kill people. Power addict, extremely temperamental. Predatory behavior. Gets off asserting power. Overwhelmingly ruined my life and my career. Temper would get worse and worse as he became more famous. Brutal and vicious. Working with him was a nightmare. Frightening being around him. He is a rapist. A screaming bully. He told me he would kill me and my entire family. Seemed sociopathic. Joy in demeaning people, he was a monster."
There was no confusion in the sentencing. New York Supreme Court Judge James Burke passed a 23-year prison sentence; 20 years for Weinstein's conviction on first-degree sexual assault and 3 years for third-degree rape.
Project WHEN recognizes the brave women who stepped forward and shared their voices: Jessica Mann, Miriam "Mimi" Haley, Annabella Sciorra, Tarale Wulff, Lauren Young, Dawn Dunning, and Rosie Perez, as well as the many others who have suffered in silence. Please know that there is hope moving forward. There are people committed to preventing harassment in the first place.
With the dynamics of concentrated power at the top of organizations where decisions are made, the social problem of workplace harassment needs to be addressed through an allied commitment from a very large group of companies and individual supporters, working together. Harassment-free workplaces cannot be achieved and sustained unless we focus our efforts on the systemic root causes with a methodical approach.
Passionate about eliminating harassment? Join Project WHEN on our journey to create respectful, harassment-free workplaces for future generations. Please sign our Pledge of Commitment and ask others to do so.
Quotes shown in this blog post are drawn from the Deadline article, Harvey Weinstein Sentenced To 23 Years In Prison As Rape Accusers Fill Two Rows In Courtroom written by Greg Evans, Associate Editor/Broadway Critic.