Workplace Harassment in the Media and Entertainment Industry
Why is harassment so prevalent in the media/hollywood/entertainment/music industry?
It is no secret that the entertainment industry is full of stories and incidents of harassment and violence. While the #MeToo movement has made it apparent that the pervasiveness of this colossal problem extends to different sectors, the entertainment and media industry has undeniably been most confronted with a series of revelations from many victims.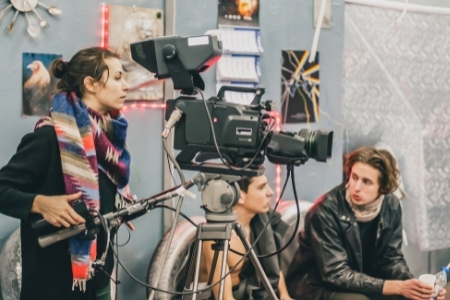 Whether on social media or in news outlets, we have seen anecdotes and reports of serious cases that involved some of the most influential personalities in the industry like the infamous Harvey Weinstein. What's even more alarming is that this is only the tip of the iceberg. A large portion of what we are witnessing are sexual harassment cases. But like in any other sectors, other systemic problems exist in the entertainment industry such as racial and gender discrimination, bullying, violence, and microaggression. What factors could be influencing the existence of the many forms of harassment in this particular industry?
According to a study published by the International Labour Organization (ILO), several of these factors include "the way the industry is organized, its organizational culture, and the diverse employment relationships" that are present in the system. Related to this research information, the U.S. Equal Employment Opportunity Commission (EEOC) identifies workplaces with significant power disparities and "high value" employees as risk factors for harassment.
Power, influence, and fame are the main determinants of success in the entertainment industry and sadly, when used to tolerate inappropriate behavior, these can also be the downfall of anyone. Time and time again, anecdotes from people who have had to endure hostile work environments prove that high profile figures are very capable of abusing their power and causing harm to others they encounter professionally.
Project WHEN's research on the factors that lead to harassment in the workplace also reveals that culture, organizational structure, and image/reputation can impact behavior in workplaces within the entertainment and media sector. Power dynamics in this industry clearly allow for a work culture where misconduct is usually overlooked or not reported in fear of career repercussions. 
Image or reputation, an important element of people's careers in entertainment, can also affect how harassment is handled in certain situations. For instance, news about a famous celebrity involved in a harassment incident can easily get covered up especially if it would save not only his/her reputation but also the sustainability of a show he/she is starring in. Many variables can come into play which is why harassment in the entertainment industry has become a systemic problem that requires a sectoral approach.
In this page, we will explore what can be done by management, celebrities, and bystanders to address workplace harassment. You'll also find a list of real harassment examples in the entertainment and media industry.
Film & music production sets, talent agencies, and broadcast television networks are all affected by harassment, so what can management/leadership do about it?
As emphasized by the U.S. EEOC Select Task Force on the Study of Harassment in the Workplace, "Preventing harassment from occurring in the first place is far preferable to remedying its consequences." We at Project WHEN also believe that one of the most effective and greatest steps that the public can take to eliminate harassment is to act on it before it even happens. How is this possible?
Law compliance should be a top priority but abiding with the law is just doing the bare minimum. More needs to be done to uproot the destructive practices taking place in a work environment. These practices can be identified by taking a holistic approach in examining the company's work culture.
When it comes to work culture, it is important to cultivate a trusting relationship between all members of a functional team or organization.  When there is trust, there is also an authentic sense of security. Employees will feel safe stepping into the workplace everyday, knowing that no matter what happens, the company has their back. This is connected to establishing a sense of accountability in the workplace.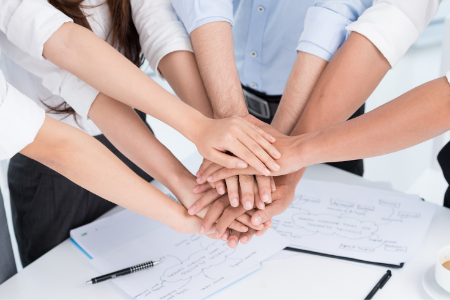 To hold the entire organization accountable, it is important to articulate to all employees, customers, and the community that the company, agency, or team is genuinely committed to creating a safe space for everyone. By enrolling in the WHEN Organizational Certification, organizations will be making a powerful declaration of their commitment to foster a harassment-free and respectful workplace. Importantly, through this certification, enrollees will be guided through a step-by-step process of exploring the best practices for preventing all types of harassment. 
We also believe that building a respectful work culture is the key to preventing workplace harassment. Advocating for this type of culture is most effective when it starts from leadership teams, cascading down to everyone in the community. Sitting down in an intimate setting to discuss the challenges experienced in the industry today could be a great eye-opener, making stakeholders realize the significance of their role in the fight against harassment.
If this sounds like something that would greatly benefit your organization, consider partnering with us to host a Project WHEN Roundtable within your company or local business community. We will work with you to create a forum where everyone feels safe to share their observations, ideas, and concerns about workplace harassment challenges and what can be done to overcome those.
What can celebrities, staff members, and bystanders do about it?
In as much as managers and industry leaders are expected to be responsible for preventing harassment in the workplace, celebrities, staff members, and the public do have their own share of responsibility. Recognizing one's role in the fight against this pervasive problem goes a long way. If disrespectful behavior is being overlooked or even tolerated in the workplace, acknowledging the situation is a crucial first step. 
Many people, however, find it difficult to speak up about what they experienced or what they saw in fear of retaliation or losing their careers. Whether one is a victim or a bystander, harassment is unforgiving. It has a detrimental effect on everyone within its reach. 
This is why awareness about one's rights under the law is important. It is necessary for victims and bystanders to realize that speaking up about harassment or discrimination is protected under federal and state laws. If you are looking to learn how the law offers protection to employees from the different types of discrimination, refer to our resources to fight harassment in the workplace. This page contains our curated set of resources that can help the public begin their journey towards awareness.
Driving change in our places of employment may seem like a long and impossible feat, but everyone has the power to make a difference. If you are interested in leading your team towards a more respectful work culture or sparking change within your community, pursuing WHEN™ Professional Certification can equip you with the necessary tools and knowledge that you need to be an anti-harassment practitioner.
How does Project WHEN help?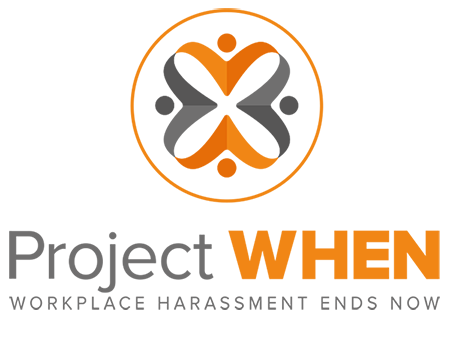 Project WHEN is working hard to spread the important message and encourage organizations to create a more respectful work culture. While we believe that awareness is important, having a means to directly help victims of harassment would have a huge impact. It is why in addition to expanding our resources for companies and employees, we are working on establishing a victim support hotline.
We aim to offer support to victims by connecting them with someone who can guide them through what they can do to address the problem while being a pillar of emotional support. Our hope is to widen our reach and let everyone know that workplace harassment needs to end now and if this is something one is battling with, help is available. 
If you find value in this cause, consider supporting us by making a financial donation to help us further our work. As a 501(c)(3) nonprofit, we rely on financial support from corporations and individuals to enable us to continue on our important mission of making workplaces everywhere more respectful. Donations made to us are tax-deductible.
Want to know about other ways that you can support us? Visit the following link to know how you can get involved with Project WHEN.
Examples of Workplace Harassment in the Entertainment Industry
Stories of harassment, cases, and lawsuits are often seen in the news today. It is true that in terms of eliminating this systemic issue, we still have a long way to go. But many are also finding the courage to speak up about it in hopes of sparking change. Below are some examples of workplace harassment in the entertainment and media industry that have been reported recently.
In a recent interview, Sheryl Crow revealed that she experienced sexual harassment in the hands of Frank DiLeo, Michael Jackson's manager. Crow shared her story of having to endure career threats from DiLeo to force her into doing sexual favors for him during Jackson's 1987 Bad world tour. The interview also brought to light Crow's encounters with sexism throughout her career.
After a BuzzFeed News investigation exposed the toxic work culture at the set of The Ellen DeGeneres show, NBC has announced that the Kelly Clarkson show would replace the daytime's most popular slot that the Ellen show vacated. According to interviews with 36 former employees, the show's "be kind" motto masks the detailed patterns of sexual harassment, racial insensitivity, and bullying within the work culture of the Ellen set.
After Michael Costello called out Chrissy Teigen for bullying him, Leona Lewis took to Instagram to share how she also experienced being bullied by Costello himself. The Project Runway star apologized to Lewis but claimed that he was "completely blindsided" by the singer's claims. Meanwhile, make-up artist Jordan Liberty has made separate allegations against Costello stating that he was sexually harassed by him. Costello responded and claimed that the cancer survivor is on a clout chase.
Pearl Modiade, a radio and TV personality, has publicly shared her experiences of sexual harassment in her former workplace, Metro FM. According to Modiade, her complaints of being sexually harassed in meetings, at work events, through work emails and on social media, fell on deaf ears. Management did nothing to stop the misconduct and even added to it.
Jailed singer R. Kelly will be facing sexual racketeering charges in August 2021. The charges include bribery, sexual exploitation of a child, kidnapping, transportation of minors, violation of the Mann Act, engaging in illegal sexual activity, illegal coercion, and enticement of individuals, and forced labor. To prepare for the trial, his lawyers sent a list of personal questions to the potential jurors.
In this L.A. Times report, former and current employees reveal sexual harassment incidents they have experienced at ICM, one of the four major talent agencies in the entertainment industry. Behind the company's effort to strike a balance between men and women in positions, many have come forward to expose that it is, in fact, tolerating a disrespectful culture in the workplace.
Due to a series of cases involving high-profile personnel at Fox News, New York City's Commission on Human Rights conducted an investigation into the news network's culture. The reports allege a culture of sexual harassment and retaliation at the network. Fox News is set to pay $1 million in settlement of this investigation.
Marc McWilliams, Kris Jenner's security guard, has accused Jenner of groping him and making racist and homophobic remarks while he was working for her. He has now officially informed the court that he will be pushing through with a lawsuit against the "Keeping Up With the Kardashians" star. Kris is now required to respond to the claims in court.
In October 2019, actresses and ex-students at Studio 4 filed a lawsuit against James Franco alleging that he intimidated students and forced them to perform unreasonable explicit sex scenes in an "orgy type setting." Recently, Franco and his co-defendants settled the lawsuit by agreeing to pay $2.2 million. 
A woman has come forward and filed a lawsuit against Diplo alleging that he intimidated a her into performing oral sex on him in a private room and recorded the encounter without her consent. Diplo's attorney is strongly denying the allegations and called the complaint "completely outrageous."
Netflix is facing a lawsuit alleging gender and race discrimination in the workplace. The suit has been filed by a former director in the streamer's business and legal affairs department, claiming that she and several other women of Indian origin were subjected to systemic discrimination. Netflix has released a statement firmly denying the allegations.
In 2019, John Crist was accused of sexually harassing several women — an allegation that he later admitted. After undergoing therapy for his addiction issues, Crist shared that the revelation of his misconduct helped him lead a better life today.
Dr. Ian Smith, former host of the medical talk show "The Doctors," has filed a lawsuit against distributor ViacomCBS, production company Stage 29 Productions, firm head, and the show's executive producer. Dr. Smith alleges that he was sexually harassed by the executive producer and that African-American hosts were subjected to discrimination.