Ending Workplace Harassment – Our Interview on the Employment Law Today Show
Project WHEN's video interview on workplace harassment amidst the COVID-19 pandemic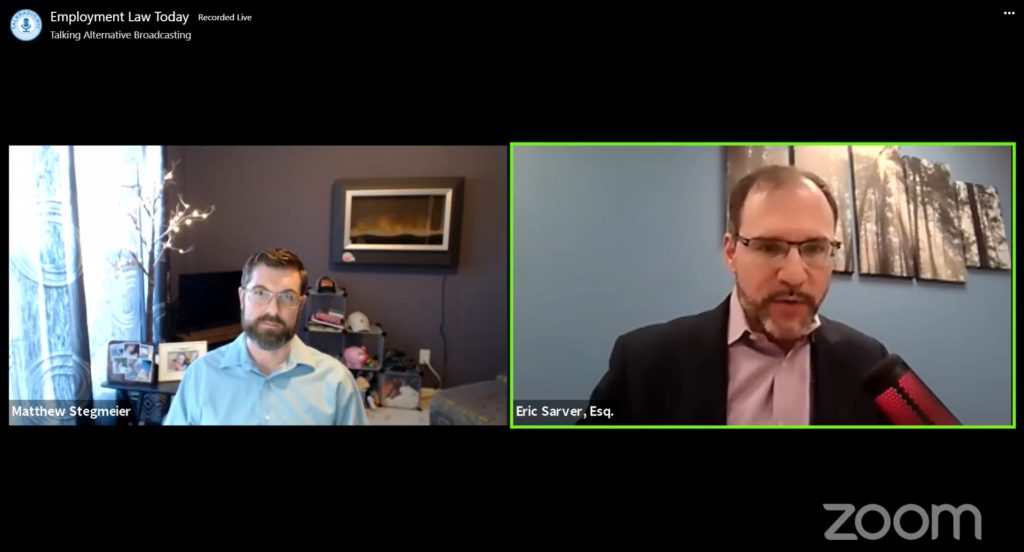 How COVID-19 impacted workplace harassment
On March 16, 2021, Project WHEN's Director of Operations, Matthew Stegmeier appeared on TalkRadio.NYC's radio show Employment Law Today hosted by Eric Sarver, Esq., an employment law attorney. In this episode, Matthew and Eric discussed the impact of the COVID-19 pandemic on workplace harassment and how employers can address this issue in a virtual and physical workplace.
Unlike the novel coronavirus, harassment in the workplace is not new to us. But the pandemic has introduced new, related challenges facing employers and employees today. When asked about his thoughts about the influence of the pandemic on workplace harassment, Matthew explained that while most people are working from home, some still work in the office and this creates different experiences and adds stress for employees. The virtual environment may have influenced people to be casual — whether in the way they dress or behave — which may lead to inappropriate behavior.
Matthew also described how these changes in the work environment may affect corporations when things start to go back to normal. He adds, "But at some point, there will be some influx of people back into the workplace and I think that is going to be an interesting time. And I would imagine there is going to be an uptick in harassment cases because people are kind of out of sorts and they're used to being in a more casual environment. And you know, you get back to the office and it's like, okay, you need to make sure to be professional again, so I think that will be an interesting challenge for organizations moving forward."
How employers and employees can respond to workplace harassment challenges
The discussion also touched on how both employers and employees can act against workplace harassment. Matthew pointed out that complying with the law is doing the bare minimum; employers can take other measures to abate such a systemic problem. He stated that employers need to start taking a holistic approach in examining their work cultures.
Project WHEN provides organizations an opportunity to enroll in the WHEN™ Organizational Certification program wherein employers can go through a structured process of learning how to prevent workplace harassment and create a more respectful work environment.
Service providers, internal practitioners, and other professionals can obtain a micro-credential by enrolling in the WHEN™ Professional Certification program. It is a five-course module that Project WHEN, together with Human Resources Certification Institute (HRCI), will be launching soon. This course is perfect for individuals who are passionate about driving change in the workplace and want to be an anti-harassment certified practitioner.
Matthew further elaborated that this individual certificate program also includes a component about the role of bystanders in addressing inappropriate and unacceptable behavior in the workplace. He emphasized that bystanders have the power to be an ally to victims and help the organization acknowledge what is happening. He mentioned the importance of having an effective reporting system in place to which Eric added that employees also need to be aware that the law protects them from retaliation when speaking up against harassment.
Where to watch the episode
You can watch the full episode through the YouTube video embedded below. For the audio version and transcript of the entire episode, visit the Employment Law Today page.
Getting involved with Project WHEN
Learn more about how you can support us or get involved with our organization here. To stay updated about the latest Project WHEN news, join our mailing list. We also encourage anyone who is passionate about eliminating workplace harassment to sign our Pledge of Commitment to demonstrate your commitment to creating respectful, harassment-free workplaces for future generations.