Women reflect on sexist slur that often goes unpunished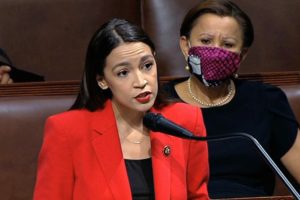 Rep. Alexandria Ocasio-Cortez made passionate and moving remarks on the House floor on Capitol Hill in Washington D.C. July 23rd against the toxic culture that allows people like Rep. Ted Yoho to make sexist slurs—and not be held accountable.
In response to the offensive language that often goes unpunished in workplaces everywhere, Associated Press writer Jocelyn Noveck interviewed various women to learn their insights on a fairly universal experience, in particular if they've been in a position of power in their organization. The encounter that far too many women have endured is being called the "B-word" by a man, and sometimes embellished by the "F-adjective."
If you're a woman, perhaps you can count the occurrences on the fingers of one hand…if you're simply reflecting on the past workweek. The truth is, women in positions of power can't truly quantify the number of these experiences. Why? Because they can't count the unknown number of times they've been called the "B-word," or other repulsive terms, behind their backs.
Read Jocelyn Noveck's inspiring article and the insights of Ellen Gerstein (pharmaceutical executive), Debbie Walsh (director of the Center for American Women and Politics at Rutgers University), Gloria Steinem (the nation's most visible feminist advocate), Tina Fey and Amy Poehler (both previously with Saturday Night Live), Andi Zeisler (co-founder of the nonprofit Bitch Media), Jen Singer (freelance writer), Jennifer Bogar-Richardson (educator), and Mila Stieglitz (recent college graduate): https://apnews.com/322c558aca167e7cc2d08d65f101d375