Workplace harassment in the alcohol & service industry
Why is harassment so prevalent in the alcohol industry?
The alcohol and service industry holds many examples of workplaces where harassment is quite prevalent. While sexual harassment seems to be the most common type of harassment that is being exposed to the public, this issue runs far deeper. Many professionals in this industry also suffer from interweaving forms of bullying and discrimination such as racism, ageism, and sexism, among others. So why is this the case?
Harassment can occur in workplaces everywhere. But it seems that the alcohol industry is particularly susceptible to occurrences of sexual and physical harassment, microaggression, bullying, verbal threats, derogatory comments, and other forms of offensive behaviors.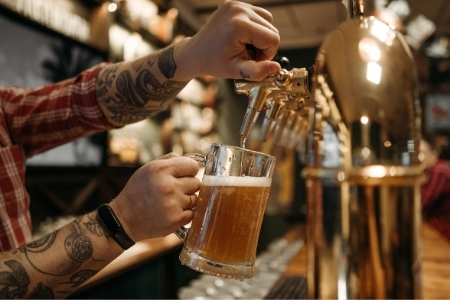 Certain risk factors exist, according to the Equal Employment Opportunity Commission (EEOC). As it relates to the alcohol and service industry, one such risk is workplace cultures that tolerate or encourage alcohol consumption. For employees working in this industry, not only is drinking allowed on the premises, but tasting the product being produced or served to customers may in fact be part of the job. Because of the fact that alcohol can reduce social inhibitions and impair judgment when not consumed moderately, companies in this industry have the responsibility to double their efforts in preventing misconduct in the workplace.
The EEOC also has identified as a risk workplaces that rely on customer service or client satisfaction. Restaurants and bars may be overly focused on keeping outside customers happy, thus overlooking clients who harass employees. Project WHEN's research on workplace harassment has revealed an additional risk factor–work environments where employees rely on tips for their main source of income. Bartenders and wait staff often are forced to ignore unwanted behaviors of customers in an effort to earn adequate income.
In this post, we will explore the things that employers and employees can do to proactively act against workplace harassment. We will also take a look at examples of workplace harassment in the alcohol and service industry.
Breweries, wineries, bars, and restaurants are all affected by workplace harassment, so what can employers do about it?
As emphasized by the U.S. EEOC Select Task Force on the Study of Harassment in the Workplace, "Preventing harassment from occurring in the first place is far preferable to remedying its consequences." We at Project WHEN also believe that one of the most effective and greatest steps that companies can take to eliminate harassment is to act on it before it even happens. How is this possible?
If you ask a human resource consultant or advisor, compliance with the law should be one of any company's top priorities to avoid conflicts in the workplace. While that is true, abiding with the law is just doing the bare minimum. More needs to be done to uproot the destructive practices taking place in a work environment. These practices can be identified by taking a holistic approach in examining the company's work culture.
When it comes to work culture, it is important to cultivate a trusting relationship between all members of the organization.  When there is trust, there is also an authentic sense of security. Employees will feel safe stepping into the workplace everyday knowing that no matter what happens, the company has their back. This is connected to establishing a sense of accountability in the workplace.
To hold the entire organization accountable, it is important to articulate to all employees, customers, and the community that the company is genuinely committed to creating a safe space for everyone. By enrolling in the WHEN Organizational Certification, companies will be making a powerful declaration of their commitment to foster a harassment-free and respectful workplace. Importantly, through this certification, enrollees will be guided through a step-by-step process of exploring the best practices for preventing all types of harassment.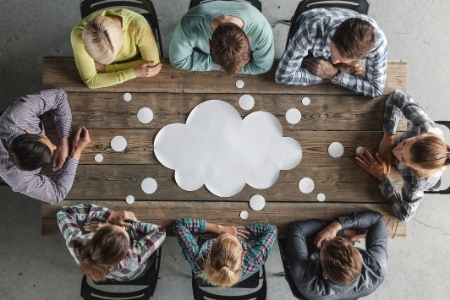 We also believe that building a respectful work culture is the key to preventing workplace harassment. Advocating for this type of culture is most effective when it starts from leadership teams, cascading down to everyone in the community. Sitting down in an intimate setting to discuss the challenges experienced by businesses today could be a great eye-opener, making stakeholders realize the significance of their role in the fight against harassment.
If this sounds like something that would greatly benefit your organization, consider partnering with us to host a Project WHEN Roundtable within your company or local business community. We will work with you to create a forum where everyone feels safe to share their observations, ideas, and concerns about workplace harassment challenges and what can be done to overcome those.
What can alcohol & service industry employees do about harassment at work?
In as much as employers are expected to be responsible for preventing harassment in the workplace, employees do have their own share of responsibility. Recognizing one's role in the fight against this pervasive problem goes a long way. If disrespectful behavior is being overlooked or even tolerated in the workplace, acknowledging the situation is a crucial first step. 
Many people, however, find it difficult to speak up about what they experienced or what they saw in fear of retaliation. Whether one is a victim or a bystander, harassment is unforgiving. It has a detrimental effect on everyone within its reach. 
This is why awareness about employees' rights under the law is important. It is necessary for victims and bystanders to realize that speaking up about harassment or discrimination is protected under federal and state laws. If you are looking to learn how the law offers protection to employees from the different types of discrimination, refer to our resources to fight harassment in the workplace. This page contains our curated set of resources that can help the public begin their journey towards awareness.
Driving change in our places of employment may seem like a long and impossible feat, but everyone has the power to make a difference. If you are interested to lead your organization towards a more respectful work culture, pursuing WHEN™ Professional Certification can equip you with the necessary tools and knowledge that you need to be a workplace practitioner. 
How does Project WHEN help?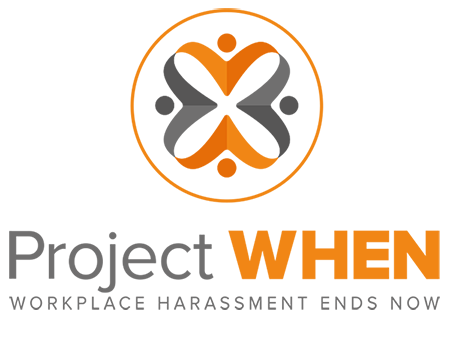 Project WHEN is working hard to spread the important message and encourage organizations to create a more respectful work culture. While we believe that awareness is important, having a means to directly help victims of harassment would have a huge impact. It is why in addition to expanding our resources for companies and employees, we are working on establishing a victim support hotline.
We aim to offer support to victims by connecting them with someone who can guide them through what they can do to address the problem while being a pillar of emotional support. Our hope is to widen our reach and let everyone know that workplace harassment needs to end now and if this is something one is battling with, help is available. If you find value in this cause, you may take action by knowing how you can get involved with Project WHEN here. 
Examples of Workplace Harassment in the Alcohol & Service Industry
Over the years, more and more stories of workplace harassment have been coming to light and these involve both small and large businesses. It is true that in terms of eliminating this systemic issue, we still have a long way to go. But many are also finding the courage to speak up about it in hopes of sparking change. Below are real examples of workplace harassment that have been reported recently.
In an exposé released by The New York Times in October 2020, it was revealed that sexual harassment is rampant within the elite group of master sommeliers. Behind the grandeur of the profession are stories of harassment that have remained a recurring theme in this male-dominated circle. Women somms and candidates share experiences of sexual aggression they have had to suffer in the hands of male master sommeliers.
In February of 2021, this brewery based in Cleveland saw the entire Columbus crew quit their jobs due to pay discrimination and other management issues. Employees took to social media to share the letter addressed to the co-founder of Platform expressing their condemnation against this discriminatory act. The company temporarily closed down after this.
Boulevard Brewing Company, a brewery in Kansas City, is under fire for turning a blind eye to sexual harassment incidents occurring within the company. Boulevard employees are speaking out online to put an end to this and demand accountability. The company is left with the responsibility to acknowledge the issue and drive change in their work culture.